I'm really just here to fundraise but I couldn't not use this title after this article.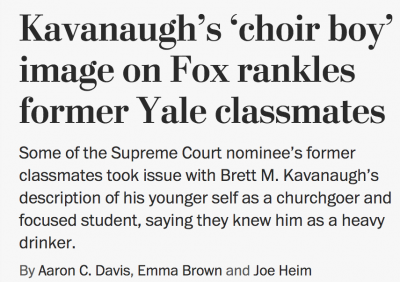 If this lying POS gets to the Supreme Court, we should impeach him for perjury with our new House majority. Give here to the Balloon Juice Forty House Seats to Freedom Fund. It's all the Republican seats listed as Toss Up or Lean Democrat plus four more candidates nominated by you the readers.
Here's the full list of candidates. You can just give to one or two at a time (it's an option when you click through above to contribute) to avoid getting on too many mailing lists.
Cindy Axne (IA-03)
Andrew Janz (CA-22)
Paul Davis (KS-02)
Antonio Delgado (NY-19)
Katie Hill (CA-25)
Angie Craig (MN-02)
Abigail Spanberger (VA-07)
Jessica Morse (CA-04)
Colin Allred (TX-32)
Mike Levin (CA-49)
Mikie Sherrill (NJ-11)
Katie Porter (CA-45)
Gil Cisneros (CA-39)
Dean Phillips (MN-03)
Vangie Williams (VA-01)
Elissa Slotkin (MI-08)
Haley Stevens (MI-11)
Harley Rouda (CA-48)
Kim Schrier (WA-08)
Aftab Pureval (OH-01)
Abby Finkenauer (IA-01)
Andy Kim (NJ-03)
Brendan Kelly (IL-12)
Conor Lamb (PA-17)
Jason Crow (CO-06)
Dan McCready (NC-09)
Sean Casten (IL-06)
Xochitl Torres Small (NM-02)
Cathy Albro (MI-03)
Lizzie Fletcher (TX-07)
Sharice Davids (KS-03)
Jennifer Wexton (VA-10)
Tom Malinowski (NJ-07)
Ann Kirkpatrick (AZ-02)
Jared Golden (ME-02)
Susan Wild (PA-07)
Elaine Luria (VA-02)
Josh Harder (CA-10)
Anthony Brindisi (NY-22)
Amy McGrath (KY-06)