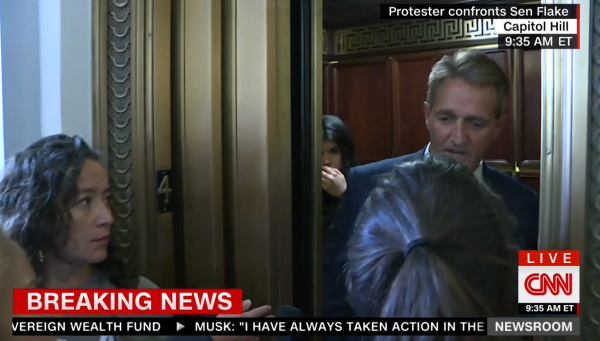 At 9:30 AM, the Senate Judiciary Committee will vote on whether to send Kavanaugh's nomination to the floor. Regardless of how they vote, McConnell can schedule a floor vote. He will because of course he fucking will — subverting the US Constitution and the will of the people is what McConnell does.
After McConnell schedules a vote on Kavanaugh, I'm 95% certain the Republicans in the US Senate will put the belligerent, entitled, rapey prick on the United States Supreme Court for the rest of his fucking life.
Which Republican will vote no? Flake or Sasse? Give me a fucking break. Collins? Not gonna happen. Murkowski? Her colleagues will find a way to bribe her.
Kavanaugh's ranty, partisan performance yesterday pleased the belligerent, entitled, rapey prick in the White House who nominated him. Lindsey Graham successfully auditioned to replace Jeff Sessions as AG, overcoming the deficit of a cracker-ass accent that grates on Manhattan Mussolini's ears.
This country doesn't give a shit about treating women equally under the law, and it never has, due to a combination of malice and ignorance, with the former increasing and the latter receding too slowly.
As I've said here before, the reaction to Anita Hill's testimony among male colleagues at my first real post-college job was an eye-opener for me back when I was a dewy young thing.
"If he was so horrible, why didn't she just quit?"
"Why was she friendly to him in social settings years later if he sexually harassed her?"
"A little bit nutty and a little bit slutty."
They didn't get it. Some still don't.
I was a cynic even then, but not so much that I expected to be sitting here 27 years later watching an even more revolting spectacle play out among members of my generational cohort.
Oh well. Nothing to do but vote, get others to vote, and get on with our lives, right? That's just the way it is.
Professor Christine Blasey Ford will go on with her life after her country proves so unworthy of her courage and patriotism, just like Professor Anita Hill did before her.
Maybe, after another 27 years has passed, 80-year-old Justice Kavanaugh will retire or kick the bucket, and my 47-year-old daughter will find the prospect of his being replaced with a misogynist unthinkable.
But you know what? I wouldn't bet on it.