New: Dem Senator Heidi Heitkamp, facing a tough re-election fight, tells North Dakota station WDAY she will vote No on the Brett Kavanaugh nomination

— Jim Sciutto (@jimsciutto) October 4, 2018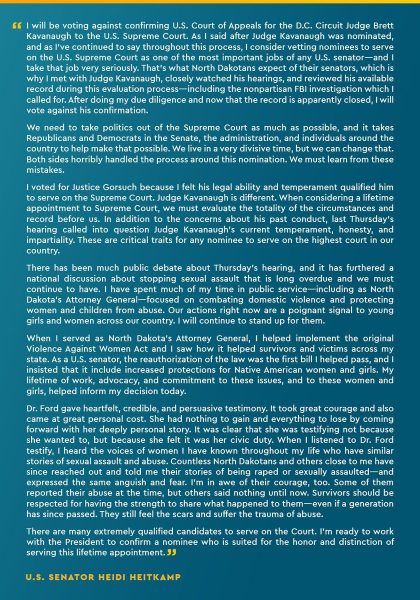 The question is whether this will be her last stand as a senator.
If Doug! wants to come along and add an ActBlue for her to this post as an update, that would be good.
Update at 2:46 PM EDT:
For those wanting to donate to Senator Heitkamp's reelection fund, here's the direct link.
Update at 2:50 PM EDT:
Here's Senator Heitkamp's statement on Judge Kavanaugh's nomination (also putting it up top).
My statement on U.S. Supreme Court nominee Judge Brett Kavanaugh: pic.twitter.com/exZcK78JtF

— Archive: Sen. Heidi Heitkamp (@SenatorHeitkamp) October 4, 2018
Open thread!