While we wait for Senator Collins to finish the longest public statement of "I'm voting yes" ever given in the English or any other language, I think it is important to take a moment and revisit the two much more courageous votes and statements of Senators Heitkamp and Murkowski. Especially so in the wake of Senator Flake's weeklong end of summer stock reenactment of Hamlet that got so much press attention.
Here is Senator Murkowski's statement to the press shortly after she voted no this morning during the cloture vote on Judge Kavanaugh's nomination.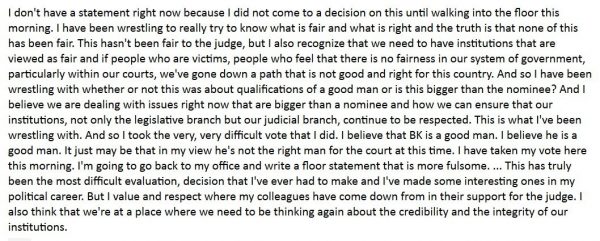 And here is Senator Heitkamp's, which I also posted yesterday: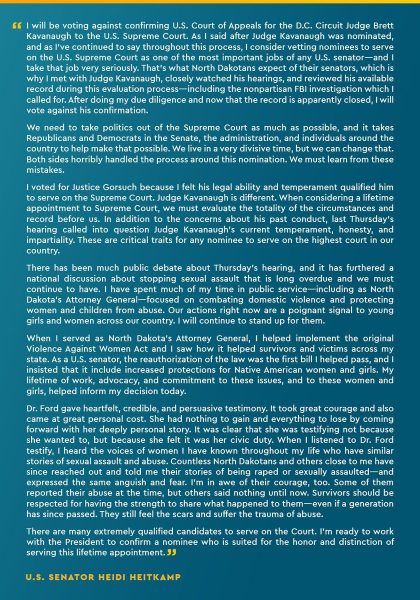 Senators Heitkamp's and Murkowski's votes and their statements are important for several reasons. Senator Heitkamp is in the final weeks of her re-election campaign and it remains to be seen whether or not this will help or hinder her in seeking another term in the Senate. Senator Murkowski is not up for re-election until 2022. Despite the stated and reported opposition by her Native Alaskan constituents, as well as Alaska's governor and lieutenant governor to Judge Kavanaugh's nomination, her re-election is far enough off that she could have just kept quiet and voted along with the GOP majority in the Senate and it wouldn't have come back to bite her if she does choose to run again in 2022. Instead she now has Alaska's premier ankle biter and matriarch of the state's most dysfunctionally petty crime family calling out the other attack dogs in an attempt to claw out another fifteen minutes of fame.
What Senator's Heitkamp and Murkowski have done isn't just cast a no vote. Read their statements as to why. Neither of them are denying that the President, regardless of what they may or may not think about the election of 2016 and his de facto legitimacy as a result of what occurred in that election, has the de jure responsibility and authority to nominate who he wants to the Supreme Court based on whatever process he establishes to arrive at the nominee. Rather they are both stating flatly that the issue here is that Judge Kavanaugh is not the right nominee at this moment in political and social time in the US. Neither are saying they wouldn't seriously consider a different nominee with an open mind. This is important. Neither Senator Heitkamp or Murkowski are doing what Senators McConnell, McCain, Cruz, and others did during the 2016 election when they stated that not only would Judge Garland not get a meeting, let alone a hearing or up and down vote to fill the vacancy left by Justice Scalia's death, but that if Secretary Clinton were elected that they would hold that Supreme Court seat open for as long as the GOP held the majority in the Senate or as long as a Democratic majority in the Senate kept the filibuster for Supreme Court nominees in place. Instead they are simply stating that because of the circumstances and politics around this nomination and the current state of American politics and society, for the good of the Supreme Court, the Senate, and the US, Judge Kavanaugh was just not the right person to fill the current vacancy at this time.
Senator Heitkamp's and Murkowski's stated reasons for voting no also gets at another important point that we all too frequently ignore, if we even recognize it at all. Specifically that the purpose of the political processes that have been established and then evolved over time, and that are right now being severely stress tested, are the mechanisms that transform what may be politically unpalatable into government and governance that is politically palatable. Part of what Senators Heitkamp and Murkowski took a stand for, in addition to accepting Dr. Blasey's testimony of what she had to endure in 1982, was the recognition that the US cannot continue going forward where the politics of might makes right, which is at the heart of all forms of fascism, regardless of whether it is a majority or a minority that has that might at any given moment in time, rules the day. They recognize that what the President, Don McGahn the White House Counsel, Leonard Leo who runs the Federalist Society and whose dark money networks bankroll the Judicial Crisis Network, and Senators McConnell, Grassley, Cornyn, Hatch, etc have done with judicial nominations – and in the case of the Republican senators done so going back to the Obama administration –  has gone way past the point where the process can be used to transform the politically unpalatable into palatable government and governance.
Senators Heitkamp and Murkowski's statements and the actions backing them up should sound as a clarion call that the system is fast approaching, if not already at, a breaking point. The subtext of their remarks is a recognition that the majority of Americans who did not vote for the President, despite his electoral college victory, or for either the GOP majorities in the House and the Senate, are fast approaching the point where Republican minoratarian rule, despite its constitutional/de jure legitimacy, is approaching the point of no return. That the relentless pursuit of power at all costs, whether through gerrymandering and voter suppression, manipulating and breaking the rules of the House and the Senate begun by Speaker Gingrich and perfected by Senator McConnell, packing the Federal courts, and/or the attempt to govern solely to the delight and enthusiasm of the President's electorally minority base of white, largely evangelical and traditionalist Christians in the attempt to create a herrenvolk democracy, isn't going to simply lock in permanent Republican control over the Federal government. It is going to irreparably break the Federal government and the United States polity and society.
While Senators Heitkamp's and Murkowski's stands will ultimately not be enough to stop Judge Kavanaugh's nomination, the importance of their actions should be recognized nonetheless. They didn't attempt to demonstrate just how much more moral than everyone else they are while predictably doing what they always do, like Senator Flake who always folds like a cheap suit after giving a sad speech with a crestfallen look on his face. Nor did they attempt to once again demonstrate how thoughtfully moderate they are, while always voting with the most conservative members of the Senate Republican caucus like Senator Collins. Instead they recognized that what the US Senate, the world's greatest deliberative country club, actually needed was leadership. Not kabuki theater or crocodile tears or a political dance of the seven veils. What we've seen this week is a contrast between two senators – Heitkamp and Murkowski – who recognize and understand what leadership is and those who don't – Flake and Collins. Leadership, either formal or informal, is doing the hard things when everyone is watching, not talking about doing the hard things and then not doing them because everyone is watching and someone might get mad at you.
As one of my professional forebears, Dr. Bernard Fall, so accurately observed in 1964 (emphasis mine):
Civic action is not the construction of privies or the distribution of antimalarial sprays. One can't fight an ideology; one can't fight a militant doctrine with better privies. Yet this is done constantly. One side says, "land reform," and the other side says, "better culverts." One side says, "We are going to kill all those nasty village chiefs and landlords." The other side says, "Yes, but look, we want to give you prize pigs to improve your strain." These arguments just do not match. Simple but adequate appeals will have to be found sooner or later.
Whether they recognize it or not, Senators Heitkamp's and Murkowski's actions and statements indicate that they recognize that the US has reached the point when the political arguments just don't match anymore. And that sooner or later simple, but adequate appeals to resolve these serious problems will have to be found. Sooner or later…
A political battle has been lost, the larger political war for both the nature and the future of the US goes on. Check to make sure you're registered to vote. Pester all your friends to make sure they're registered to vote. Pester all your friends to make sure they pester all of their friends to make sure they're registered to vote. Then vote. Pester all your friends to make sure they vote. And pester all of your friends to pester all of their friends to make sure they vote. 
Open thread!