Earlier this week, I noted that the ACA risk adjustment program is highly likely to overpay for Hep-C anti-viral prescriptions this year and next year due to list price reduction shocks.  The price that insurers pay will be significantly below the prices used to determine risk-adjustment co-efficients.
We had briefly talked about a great NBER paper by Geruso, Layton and Prinz in June 2017 about how risk adjustment and reinsurance mostly worked on the ACA to remove cherry picking incentives.  My thought when I read the paper was that this was a profit-making opportunity for positive risk screening for certain small groups of drugs:
I had my cynical bastard insurance company plumber hat on as I looked at that graph. There are several drugs in that lead to a total cost of treatment between $45,000 and $50,000 but bring in between $55,000 and $65,000 in revenue. They are the massive beneficiaries of risk adjustment.

My big operational question is whether or not insurers were actively designing formularies to attract these patients?
I want to repost a slightly modified version of the graph that I referenced in order to talk a bit more about this idea of attracting profitable risk: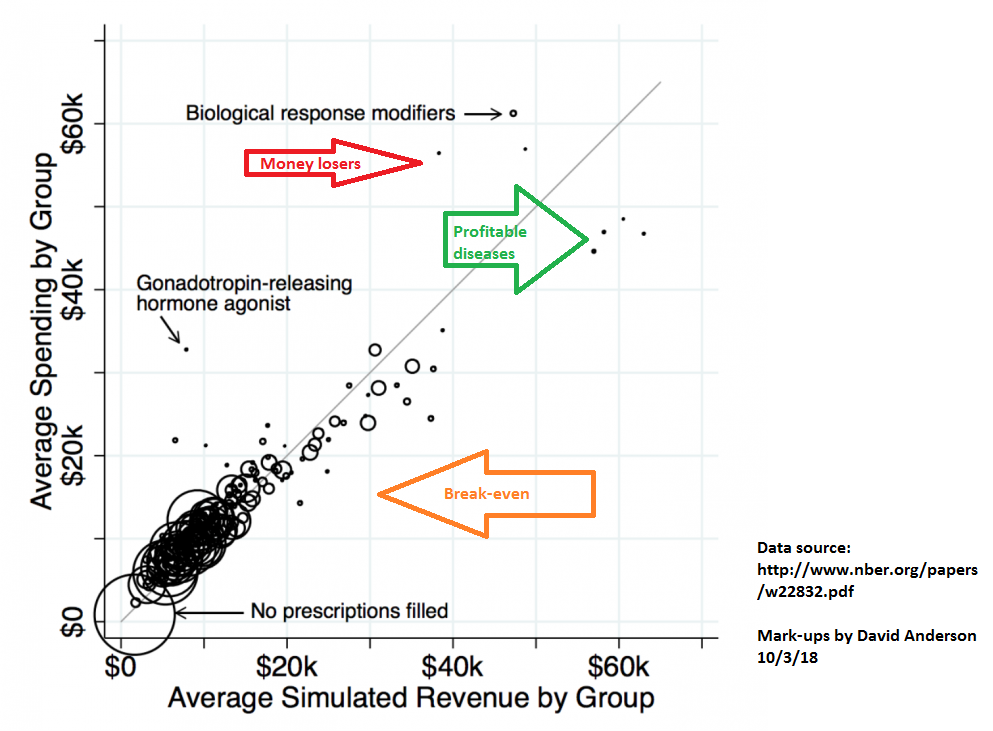 Every circle near the gray line is risk adjustment and reinsurance working close enough to right; total net incremental revenue is close enough to total net incremental costs.  The dots that are noticably above the gray lines are risk adjustment and reinsurance problems where total net incremental revenue is significantly below total net incremental costs.  The dots below the gray line and near the green arrow are profitable drug classes as the net revenue (premiums plus reinsurance plus risk adjustment) is significantly more than the incremental costs of care.
I think that the ACA risk adjustment formula with the currently lagged data is moving Hep-C cures into this group for a couple of years.  Insurers should have strong incentives to make it very easy for anyone that they cover in the ACA individual market to get easy access to the Hep-C cures as it will be very profitable for the insurers to do so.  I think one of the first tests that we should expect to see will be if there is a drop in tiering and pre-authorization requirements for at least one of the drugs in the Hep-C anti-virals therapeautic class.      If that is the case, then we can probably infer that an insurer is more willing to pay-out on Hep-C risk.