The Kaiser Family Foundation has another issue brief on the financial performance of individual market insurers through the end of the first half of 2018. The short story is that insurers are Scrooge McDucking it right now in the individual market as they massively overpriced 2018.
This has been my core analysis since March; insurers got frightened and believed (with little state regulator pushback) that the ACA individual market morbidity would have fallen off the cliff. So far it has gotten slightly worse (4% more inpatient days) but it did not crash through the bottom. So what would "accurate" or "fair" pricing looked like?
I've grabbed their Table 3 data for further analysis. This is a quick and dirty analysis with algebra as my only analytical tool. This is limited in that we should expect claims payable in the 1st half of the year to be lower than claims payable in the second half due at least out of pocket exhaustion. But this gets us in the general area.
All I am doing is taking the paid claims and multiplying that by 1.25 to get to a premium level which supports precisely an 80% raw MLR. I then subtract the average premium collected minus the implied premium level. Ideally at the end of the year, the difference should be zero or slightly negative (implying a higher actual MLR than the bare minimum).   As the rest of the year continues to pay out, we will see the implied premiums get larger as claims will increase at the end of the year.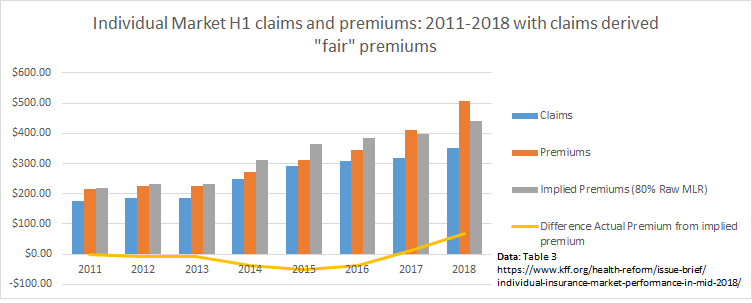 In 2011-2013, the difference at the mid-year is slightly beneath zero.  2014-2016 the premiums were too low while in 2017 (10% to 16% too low).  In 2017 the actual premiums were 3% above the implied premiums.  In 2018, the actual premiums are about 13% above the implied premiums.
These numbers will change in the 3rd and 4th quarter.  But the basic trend is the key insight.  2017 was probably priced close to right where well run insurers could be profitable especially if they could squeeze their admin costs while 2018 has seen significant overpricing of premiums.