My shoulder hurts.
Today was the first day when fall really felt like fall. It was 51 degrees, and in years past when I was younger I would still be wearing shorts, but I put on pants (overalls, actually), some good wool socks, and a comfy long sleeve t-shirt. I'm getting colder and wiser as I age.
Spent some time at the Ohio County Democratic party HQ filling out postcards for Bill Ihlenfeld, then had to head to Best Buy to pick up a new charger cable for my laptop. I dropped off a big bag of apples and some cider from the orchard at HQ because every time I have been there they just have a load of crap- cookies, pastries, etc. Figured they could use something tasty and healthier.
Now I am sitting here watching Breaking Bad (again), filling out more postcards, petting animals, and scanning twitter.
Oh- have any of you ever made crystallized ginger? I want to make some, but I want to sweeten it with monkfruit so it is a low calorie guilt free snack. Think that would work?
I gotta say, it is nice being able to wear a terry cloth bathrobe and slippers again, and I just love waking up with it cold in the room while I am nice and cozy under the comforter.
Thurston, for all his many flaws, which in fairness aren't really flaws but just his essential character, is an amazing sleeper. He cozies up right next to your hip and belly, and after he gets settled, is a nice little heater. Here is a pretty adorable picture of him from earlier when he was (as always) craving attention: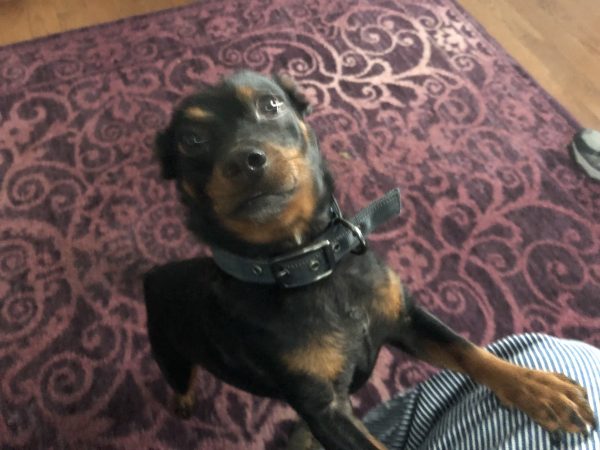 He's a very good boy.