Average premiums for the ACA are likely to barely increase. There are locally massive rate decreases. CMS is taking a victory lap.
I think CMS is right on the proliferation of Section 1332 reinsurance waivers has contributed to lower premiums in seven states. The rest I think is far more questionable. I think that when we look at 2018 Medical Loss Ratios, we see that insurers massively overpriced. Insurers did not know what the rules would be in 2018 so they either ran like hell or raised rates.
We get two different pricing scenarios. Scenario 1 is the counterfactual scenario where 2018 was "correctly" priced so that most insurers would end up normally profitable with an MLR in the mid-80s. Scenario 2 is roughly what we are seeing in reality where insurers will be Scrooge McDucking it on the individual market in 2018 with MLRs in the 60s and 70s.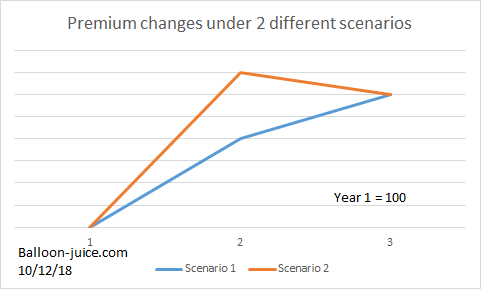 In Year 1 and 3 under both scenarios, the pricing is the same.
The difference is in Year 2. Under the counterfactual case (Scenario 1) there is a large price spike as CSR is built into premiums and medical trend matters. In the reality case (Scenario 2) we see a huge spike. Insurers built CSR into the premiums, medical trend matters, insurer drop out matters, fear of spiking morbidity due to messaging and potential mandate repeal and intense political leverage for state regulators to approve any rate level. Fear, rule set uncertainty, and empty markets created by fear and rule set uncertainty drives massive rate increases.
Moving to year 3, Scenario 1 has a premium increase from a realistically priced 2018. Medical trend hits again plus mandate repeal minus health insurance tax repeal minus reinsurance creates the current price point. Under Scenario 2, the insurers are trying to price the 2019 market so that they don't have incredibly outsized profits leading to mega-MLR rebates. Under both scenarios the Year 3 price point is the same but the change from prior years is different.