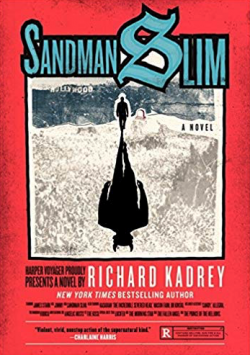 Hello and welcome to Recommended Reading, the feature where we talk about books! In honor of October, and the impending election, I would like to recommend a book about clawing your way out of Hell to exact revenge on the people who sent you there: Sandman Slim (Sandman Slim #1), by San Fransiscan Richard Kadrey.
It tells the story of Stark, a sorcerer brut and member of Southern California's hidden, magically-attuned society. His erstwhile friends banish him to Hell, and after ten years of gladiatorial combat, he murders his way out seeking vengeance.
But he wonders: are Los Angeles, and this mission, really all that different from his last decade?
It's a bloody good read, with some of the best hard-boiled imagery that I've ever come across.
When I was Downtown, I learned a lot about making threats. Make them big. Make them outrageous. You're never going to kick someone's ass. You're going to pull out their tongue and pour liquid nitrogen down their throat, chip out their guts with an ice pick, slide in a pane of glass, and turn them into an aquarium.
Oh, and there's loads of old movie references, if that's your thing. (More quotes, the kind that might make even certain commenters blush, can be found at Goodreads.)
I'm usually loath to recommend the first book in a series, but it works as a standalone. Four out of five stars, seasonally appropriate. Content warning, extreme violence and Satanism.
---
What are some of your favorite pieces of revenge porn? What else have you been reading? I'm on book 1.5 of Peter F. Hamilton's Night's Dawn trilogy.
As always, if you're going to buy anything, go through the Balloon-Juice Amazon Affiliate link (or support your local bookstore)!