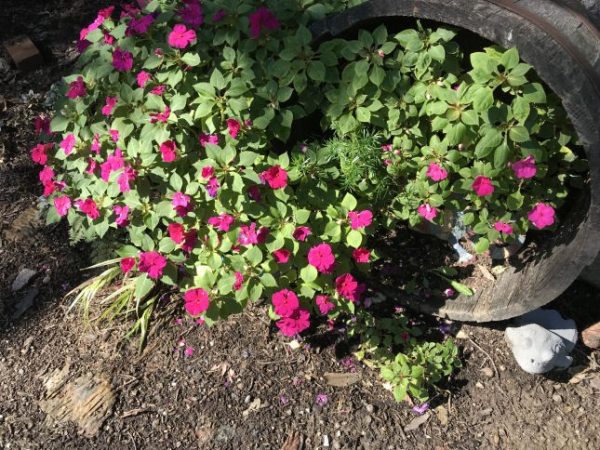 Looks like we have *finally* come to the end of this hellish summer, so I might actually be able to do some much-needed work in my sad neglected yard. Of course, not all gardeners are as wimpy. Here are some photos that have been waiting in the queue for some six weeks, from commentor Susie:
Here are some of my latest garden projects. This is for Lapassionara.

At the top is a barrel planter that used to be under a tree in my front yard. I managed to get it on its side and roll it to the back yard, where I put it on its side and use it for impatiens. I should have fed them more, but earlier in the summer they were full of blooms.

The top photo is about a third of the day lily bed, before I got around to digging it up. Underneath it is a photo of the bed this morning, after I completed the digging. This is deceiving, as when I go back tomorrow and dig around in that dirt, I will find, no doubt, day Lilly roots and corms lurking in the soil.

I plan to use this for sun-loving perennials, as it is just about the only bed I have that gets enough sun for consistent blooms.


These are my favorite shrubs, oak leaf hydrangeas. I planted these three last summer, and there are two doing great, one getting better, but not yet great.

The photo underneath shows some more oakleafs, these given to me by a friend. Mature oak leaf hydrangeas will put out progeny along their roots, and these are easily dug up and potted, then replanted in a suitable site.

The nice story about these is that my friend got her oakleafs from my hydrangeas that were growing in my yard in my former home in South Carolina, so these are grandchildren of my original three oakleafs. I love getting free plants, and giving free plants away.
***********
What's going on in your garden(s), this week?