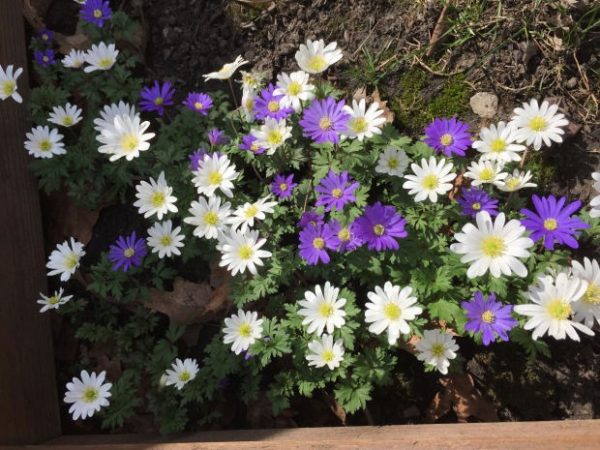 From laudably determined commentor Watergirl:
I didn't get to garden much this year because of my broken ankle, but at least I had some happy flowers to look at through the windows and from the porch.

The windflowers were my happy surprise this spring. I had planted the windflower bulbs last fall, not knowing for sure what they would look like. They really popped, and they are such happy flowers — I am planting more this year.

This was the best year ever for my hydrangeas. Not sure if that's because we got a lot of rain early or if they finally came into their own after being in place for several years, but either way, I'll take it! For all those weeks I was stuck inside with my broken ankle. I cold at least look out the french doors and see some happy flowers on the side of my house.

It was also a great year for my mandevilla. I overwinter it every year, but this year I put it on the opposite side of the house so I could see it every time I looked out the window. (see ankle, broken) You can't quite tell from the photo, but the flowers start out the palest of pale pinks, and then turn white with the yellow centers once they open fully. Pale, pale pink flowers are some of my favorites.



If I had to be stuck inside, I at least wanted something pretty to look at, so my very first (non-doctor) outing was to the flower center where I bought 9 double impatiens to plant in one of my huge flower pots. You can't tell from the photo, but the colors range from white to pale pink to a slightly brighter pink. Not sure why they came out looking so dark in the photo, but I am clearly not best photographer so I'm sure that has something everything to do with it.

It was a thrill when I finally got mobile enough to make it out on the back porch. I have included two photos of views from my porch. One of my Rose of Sharon's croaked over the winter, and I replaced it with this one.

I gave my gardening this year a special code name: Operation Keep Everything Alive. That was the best I could hope for, so I ordered a million soaker hoses and three 4-way splitters for my outside spigots to water the parts of the yard I couldn't get to, and I was eventually able to hobble around and hand-water the flowers that were on my side patio, which were pictured here.

Happy to be in a better place now, and I have a zillion plans for what I want to do for next year.
***********
What's going on in your garden(s), this week?