So, I get email.
Today, I got this:
Dear sirs,

My name is XXXX, I am a journalist and I work in a quiz show for the Spanish television [show]….

Sorry to bother you, but I would greatly appreciate if you could please help me corroborate the following information about ISAAC NEWTON:

A TRUTH ABOUT ISAAC NEWTON

HE PUBLISHED AN EROTIC NOVEL
WHEN HE WAS YOUNG HE WAS A CARICATURE ARTIST
DESCARTES WAS HIS TEACHER
HE WAS A CONSUMMATE VIOLINIST
HE HUNTED A FAMOUS CRIMINAL (WHEN HE WAS WARDEN OF THE MINT, HE CHASED WITHOUT A REST THE COUNTERFEITERS AND GAVE HUNT TO THE GREATEST COUNTERFEITER OF THE COUNTRY. TO DO THAT, HE DISGUISED HIMSELF, HAD THIEFS AS INFORMANTS AND VISITED THE WORST PARTS OF LONDON…
HE GAVE LECTURES/CONFERENCES IN SPAIN

We think that the correct answer is HE HUNTED A FAMOUS CRIMINAL, but we need to verify it and also discard the other options, please.

…
The correct answer is, of course, number 5, somewhat toned down. (Newton didn't prowl the mean streets of the capital in a funny hat and a fake mustache, for example.)
I'm guessing the violin is a crossed wire with Albert Einstein, and seeing as Descartes died when little Isaac was six, I think we can safely cross that one off.  Newton, famously the man who solved the problem of the tides and who lived on an island never even saw the sea,* so lectures in Spain are right out too. No idea where the caricature artist came from, but he was a fine draftsman and as a schoolboy he was known to have marked up the walls of his room with charcoal drawings of "birds, beasts, men, ships, and plants," as noted by his definitive biographer, Richard Westfall.  Still, that's not the description of a caricaturist.
But you know where I'm going with this.  Sir Isaac Newton, FRS, Warden, then Master of the Mint, and an occasional Member of Parliament, an erotic novelist?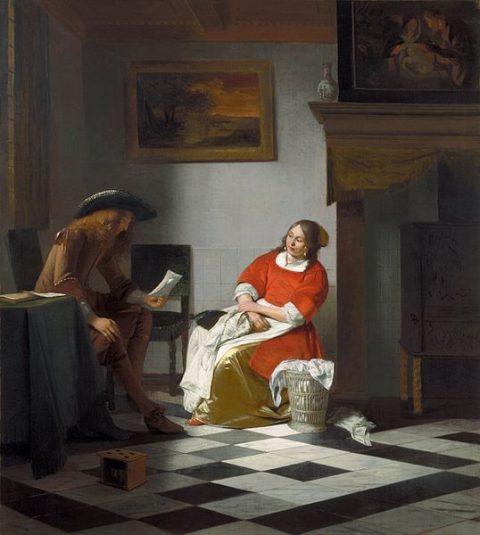 One can but dream that there's some manuscript hidden inside a wall somewhere to reveal the profane literary gifts of the man of whom it was said, "Nature and Nature's Laws lay hid in Night:/God said, "Let Newton be!" and all was light."**
Nah gonna happen. Among much else, Newton was a well-known prude, who once banished a friend from his circle forever for telling a rude joke about a nun.
But still, I can't stop my lizard brain from going there.  If Isaac Newton had written an erotic tale, what would the title be?
Best I can come with is Gravity Does Dallas.
Do better, my fine jackle-ish friends.
Open thread, also too.
*Simon Schaffer's line.
**Alexander Pope's proposed epitaph.
Image: Pieter de Hooch,Man reading a letter to a woman, 1674-1676