WE DON'T EVEN WORRY ABOUT HURRICANES WHEN THEY ARE THIS FAR AWAY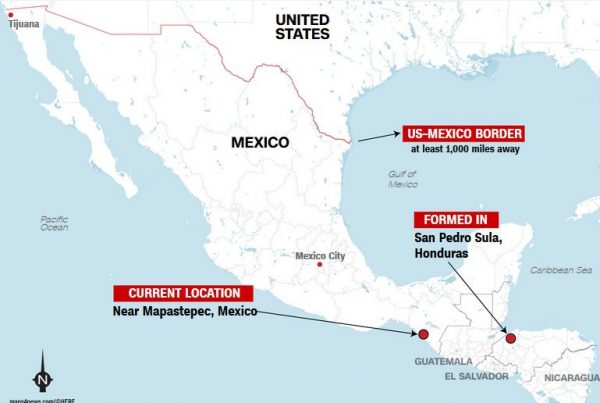 We seriously live in the stupidest of times:
Defense Secretary James Mattis is expected to sign deployment orders as soon as Thursday that could send 800 or more troops to the border with Mexico to help border patrol authorities stop a caravan of migrants from Central America moving through Mexico to enter the US, according to three administration officials.

The officials tell CNN final details are being worked out including where the troops will come from and their specific tasks.

Several administration officials say it is anticipated that the Pentagon will pay for the bulk of the mission by using active duty troops. It's not yet clear if the Department of Homeland Security will reimburse the Pentagon.
The migrant caravan is approximately 5000 people "strong," the vast majority of whom are either children or elderly, women, pregnant, in wheelchairs, and in various stages of poor health. They are moving at approximately 20 miles per day, which means they ARE MONTHS AWAY from being anywhere near the US border. Jesus tapdancing christ they are months away from the US embassy in fucking Mexico City. They are also unarmed and far more harmless than your garden variety tailgate of several thousand drunkards ON EVERY COLLEGE CAMPUS IN AMERICA.
To further illustrate how harmless this caravan is, it is currently not even moving, as it has been halted. Why has it been halted, you ask? BECAUSE ONE OF THEM FELL FROM AN OVERCROWDED TRUCK AND DIED.
This is not, as our idiot administration might want you to believe, the mongol horde. This is not the invasion of Normandy. This isn't the Cuban boatlift, which we survived just fine. This isn't even Black Friday at fucking walmart with tv's on sale. They are no threat, they are nowhere near us, and even if, in the next six months they hobble within 50 miles of our border, we have laws and enforcement personnel a plenty to deal with them. But wait, it gets dumber:
The troops will not engage in lethal operations to stop the migrants. Instead they are expected to provide fencing, wall materials and other technical support at several key points along the border where it is believed the migrants may try to cross.
Fencing material. Say it again. Fencing materials. And not, one might presume given the general level of idiocy at play here, foils and épées. They're acting like these guys are coming with bangalore torpedoes and obstacle breaching equipment. They aren't in fucking siege towers.
But that's not going to stop Team Bigoted Stupids at the White House from completely blowing a gasket and yanking a fucking batallion of poor bastards away from their training schedule, their scheduled leave, and their normal duties to post them to deal with this nonexistent threat. Speaking of which, where precisely are they going to post them? We have no idea where this caravan is going to end up on the border, AS IT IS CURRENTLY 1000 MILES AWAY IN MEXICO. Are we just going to put up a picket every 200 miles on the border with a company? You know what is also 1000 miles away? MEXICO'S BORDER WITH GUATEMALA.
In the history of political stunts, this is by far the dumbest, and will probably be the most expensive. Right now every officer in an S1-S4 nationwide is getting shitfaced hoping their unit is not tagged because trust me they do not want to deal with redoing the schedule, supply, securing transportation, housing, etc.
And this does not even NEED a military response. Jumping jesus on a pogo stick if you really want to stop a caravan of refugees that have walked for months, put up a fucking buffet table, some porta potties, and some showers. If you absolutely need a show of force take some chronically broken lemon of a Bradley off some poor CEO's books, and have an 88 tow it to wherever these guys eventually show up if they actually show up. Put some MILES gear on it so it can go bang.
This is the dumbest most racist fucking country on the planet. I can't even.