So, there are a lot of goddamn alligators in our river! Here's one that looks blue thanks to the reflected sky: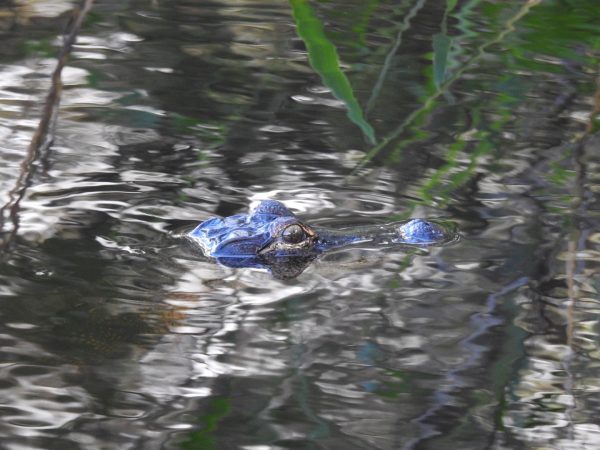 Here's a close-up of his pitiless eye: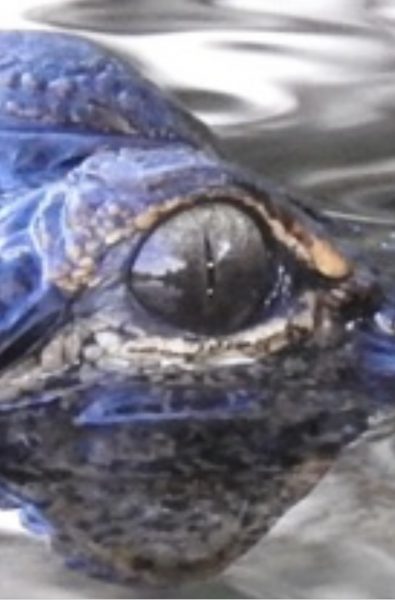 He's just a little fella and therefore lucky I didn't wade out and yank him out of the river and cook him for dinner. The tail fillets are delicious if you know how to season and fry them. Which I do.
We're having a water pressure issue at the swamp compound. We checked it before we bought the house, but it has diminished considerably for some reason.
The mister is a wiz at irrigation issues and fiddled with the machinery some, but we've got a well pump pro coming Monday. Hope it's not too costly, but we're resigned to a minimum of $1K. A thousand seems to be the fucking baseline.
Meanwhile, I took a shower a while ago, and during the creme rinse phase, I was mentally lamenting the loss of the torrent of water that municipal systems have delivered to my lathered noggin for these past decades.
But then I remembered that my forebears fled the potato famine, made their way to this part of Florida (of all places — what were the daft gingers thinking?!?) and stole acreage from the previous occupants to scratch out a living as frontier farmers.
Family lore has it that one great (times x) grandfather traveled to Georgia in the 1880s to sell something, and when he tried to return home, his train was stopped at the state line because the entire state of Florida was under quarantine for yellow fever.
The train would continue on with supplies, but all passengers were compelled to disembark and wait out the quarantine.
My grandpa slipped under the stopped train and found a spot on the undercarriage to cling to, then rode across the state line as a stowaway, waiting for the train to stop again before sneaking off and making his way home on foot.
He did that because he was afraid his family would starve to death without him.
So yeah, I can handle this low water pressure and alligator situation, FFS.
Open thread!