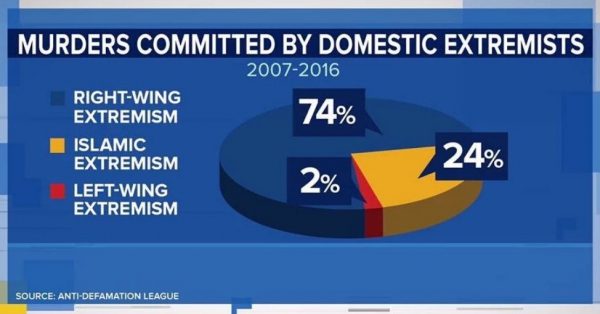 As we slip towards the weekend I wanted to take a moment and reflect on where we are at. First, we are very, very fortunate that Cesar Sayoc was a better sticker aficionado than he was a bomb maker. We all need to keep in mind just how much danger he created for Americans and people living in or visiting America over the past week. And that's provided that the US Postal Inspectors, the FBI, and the ATF have tracked down all of the additional bombs he put into the postal system. Every postal worker, everyone along each delivery person's route, everyone at the offsite receiving and scanning facilities, and/or everyone at the locations where the packages actually were delivered were all at risk. If any, let alone all, of the pipe bombs that Sayoc had mailed to his intended victims had gone off at any of the stages of handling, shipping, and delivery by the US Postal Service we could have been looking at one or more mass casualty situations. It is important to keep in mind that by the sheer blind luck of Sayoc's lack of talent as a bomb maker a lot of people weren't hurt and killed. And that this week's campaign of domestic terrorism created only fear and stress and not injuries and fatalities. Sometimes it really is better to be lucky than to be good.
We also need to realize that what we're dealing with is social learning driving terrorism and low intensity political violence. While Tom Nichols, who has been working through his own theory in regard to radicalization where he refers to these types of terrorists as Lost Boys, identified Sayoc's domestic terrorism campaign without explicitly referring to it, it is actually the social learning and social behavioral drivers of terrorism.  This includes the normal four components of learning: 1) Primary associations, 2) Definitions favorable, unfavorable, and neutralizing to behavior, 3) Imitation, and 4) Reinforcement. It also includes the social learning components of neutralization (of definitions unfavorable to behavior) and drift.You can see this in the third and fourth tweets below.
The question isn't whether MAGA Van Guy is nuts, since he clearly is. That's not the President's fault. The better question is whether the WH and the Trump media complex is pushing the crazy juice so hard that it's making unstable people more likely to be violent. /1

— Tom Nichols (@RadioFreeTom) October 26, 2018
The difference here is that really hateful stuff is coming in waves not from foreigners or fringe groups, but from WH-sponsored rallies, from widely-cited internet sites that have zillions of followers, and from a four-hour window of hot crazy known as "Fox in prime time." /3

— Tom Nichols (@RadioFreeTom) October 26, 2018
We can all hope that this will make some of those people think hard about what they're doing, but it won't. And I doubt this guy is going to be the last guy to do something like this, especially as the administration unravels more over the coming months. /5x

— Tom Nichols (@RadioFreeTom) October 26, 2018
Nichols is a political scientist and international relations scholar and national security practitioner, not a criminologist, so it is not necessarily surprising that he isn't read up on social learning theory. I, however, wrote my doctoral dissertation on social learning explanations for terrorism and low intensity political violence* and have several publications and numerous analytical reports for the Army dealing with this topic. As I wrote here back in August 2016:
But not all of Nichols lost boys are actually boys. Robert Dear is 57. Major Nidal Hasan is in his 40s. Mohamed Lahouaiej-Bouhlel is 31. The common denominator for all of these men, as well as for Dylann Roof, Micah Xavier Johnson, Rizwan Sayeed Farook, and others from even farther back in time such as Timothy McVeigh, Eric Robert Rudolph, Shelley Shannon (a woman), and Ted Kaczynski, is the need to alleviate their strain. Regardless of the source of the strain and regardless of whether their grievances are objective, subjective, or a combination of the two. The real question is how does one go from being socially** strained to externally directing one's response to their strain. The answer, I think, is hashtag radicalization and terrorism. And this type of radicalization and terrorism has an empirically definable pathway.

In the 1950s Sykes and Matza put forth a variant of social learning theory called neutralization and drift. Their intention was to clarify the social behavioral pathway that leads to delinquency, deviance, and crime. Sykes and Matza theorized that delinquency, deviancy, and crime are based on justifications that are used to rationalize behavior. And they called these justifications the techniques of neutralization, which allow one to drift into crime, deviance, and delinquency. Or in the cases we're interested in extremism, terrorism, and/or mass violence. They are divided into five types of neutralization: 1) denial of responsibility; 2) denial of injury; 3) denial of victim; 4) condemnation of the condemners; and the 5) appeal to higher loyalties. The first three justifications all deal with denial. They allow the offender to rationalize his behavior as outside of his control. He or she is not really hurting anyone. And even if someone is hurt they may have deserved it. The fourth justification allows the offender to invert the knowledge of her wrongdoing back upon those criticizing it by asserting that the condemners are hypocrites, do equally bad things, or are out to get her. Finally, the fifth rationalization allows for the justification of behavior on the basis of loyalty to one's group rather than one's society.
What we have seen this week with Sayoc's terrorism campaign, as well as with conservative and/or Republican elites and notables (elected officials, appointed officials, pundits, and commenters) and just supporters of the President who continue to toss around the idea that this is all a false flag or a hoax or somehow actually perpetrated by the intended targets to harm the President or the GOP's electoral chances in two weeks, are perfect examples of social learning in general and neutralization and drift in specific. We can clearly observe:
Primary associations in regard to being an objective or subjective supporter of the President.
Learning definitions favorable, unfavorable, and neutralizing of behavior. Sayoc clearly learned from the President, as well as other Republican and conservative authority figures, that it is okay to target and vilify former and current Democratic officials or officials appointed by them, center left to left of center funders of liberal and progressive causes, CNN and other news media outlets that the President doesn't like and often denigrates, and outspoken elite and notable critics of the President. We can also see this at play in the attempts to wave away this terrorist campaign by claiming it is fake news or a hoax perpetrated by the victims.
Reinforcement is also clearly present. Specifically, Sayoc received reinforcement from conservative news media and conservative social media as current and former Republican officials, news media figures, commenters, and pundits, as well as just a large number of the President's supporters talked about and magnified Sayoc's actions through the attempt to dismiss it with whataboutism and bothsiderism, as well as calling it fake news or a hoax or denying the legitimacy of the victimization of the actual targets.
While we haven't specifically seen imitation yet, it will, unfortunately, likely appear in copycat actions over the next couple of weeks. And potential copycats do not necessarily have to copy the method of trying to make and use pipe bombs sent through the mail.
Both in the run up to today's arrest and since Sayoc was taken into custody, all five elements of neutralization and drift that I delineated above are clearly explicitly observable. The Republican Party, especially its base membership, realigned to the perspective of the President, as well as conservative news media and conservative social media are all now a tool for radicalization. We can expect to see more Cesar Sayocs until conservative and Republican elites and notables make a stand. And I don't mean the NeverTrumpers. They are, as far as the conservative movement and the Republican Party and the Republican base are concerned, traitors and unpeople. If the leaders of the conservative movement and Republican Party in the US do not make a stand soon, their movement, their political party and the news and social media platforms that support and bolster them will be no different than the ideological, doctrinal and information systems that allow ISIS and al Qaeda and the Putin backed neo-nationalists and neo-fascists to attract new members, radicalize both the new and longer term members, direct them at their enemies, and then sit back and wait for one of them to go operational.
Sayoc didn't just appear fully formed this week. Nor is he a one off.
@CBSMiami I have some pictures of this van I saw him at a stoplight one day and thought is was very strange. pic.twitter.com/VWUwznJK8k

— Mo (@thereal_mo01) October 26, 2018
To the #MAGAts claiming that my husband's picture of the #MAGAbomber's van from November 1, 2017 was fake, newsflash: it's not. #CesarSayoc #FloridaMan #VoteBlueToSaveAmerica pic.twitter.com/8nL6N8st2Z

— Lesley Abravanel? (@lesleyabravanel) October 26, 2018
We've all seen vans or trucks or cars festooned like this. Some with fewer stickers, some with more (if that's actually possible). One of my neighbors uses a handy man whose work truck is covered with stickers for auditing and ending the Fed, returning the US to the gold standard, statements that link back to the Von Mises Institute or Ron Paul's foundation. I'm sure he's very nice… There are more Cesar Sayocs out there. Just as there were more Dylan Roofs as we saw in Kentucky on Wednesday. And they're marinating in the President's and other elite and notable conservatives' and Republicans' toxic rhetoric. At some point they'll reach the point where they have learned both enough of the definitions favorable to neutralize the prohibition against attacking other people, as well as who is an acceptable target from the President, from Republican elected and appointed officials, from Fox News, or from Rush Limbaugh or Hugh Hewitt or others on right wing talk radio, or from conservative social media across a variety of platforms, and when that happens they'll take action. We can't predict who the next Cesar Sayoc will be, nor can we predict who he or she, though it is most likely to be a he, will target, nor can we predict when it will happen. But unless something changes and soon, it will happen. And it will happen again and again and again.
Update at 9:05 PM EDT
Apparently the President couldn't even contain himself for 24 hours. While I was writing this post, he went right back to his dangerous, radicalizing rhetoric at his rally this evening:
Remarkable. Trump makes discussion if bomb scare an attack on media and Dems stirring up climate of violence, attacking Trump. pic.twitter.com/zQOFZlaxdn

— Josh Marshall (@joshtpm) October 27, 2018
Trump cheers "Lock her up!" Chant about "Crooked Hillary" pic.twitter.com/xb2XAoog64

— Josh Marshall (@joshtpm) October 27, 2018
Trump mocks and leads cheer against Rep Maxine Waters, one target of Trump-backing mail bomber Cesar Sayoc. pic.twitter.com/vKqBjaMmkz

— Josh Marshall (@joshtpm) October 27, 2018
Stay vigilant! And remember to vote!
Open thread.
* Full disclosure: If you decide to (if you are so masochistic as to) actually try to get a copy of my dissertation as a reprint and read it, please be aware that it contains a significant methodological flaw that was not caught by anyone prior to my defense and submission of the final copy for archiving. Specifically, because terrorism data is non-linear, but also small n in its frequency, the appropriate statistical analysis would have been to run a Poisson distribution. The methodologist hired by the Department of Political Science during my final year as a doctoral student and candidate – and the department leadership and hiring committee were warned that the methodologist was using the hire to get back into academia, was not going to do anything he promised to do, and as soon as he was reestablished he was leaving for greener pastures, which he did – refused to review my or any of the other students dissertations who were preparing for defense and submission for methodological soundness because we weren't "his students". Neither of my dissertation chairs (one in political science and one in criminology), both of whom are excellent quantitative methodologists, worked with non-linear data. Nor had I had any real exposure to dealing with it as I had completed my methodological coursework prior to the methodologist being hired – it was simply not covered in the classes I took. As a result neither I, nor they caught that an ordinary least squares regression was not appropriate for the outcome variable I was working with because it violated the linearity rules of the Gauss-Markov theorem. Interestingly enough, once someone pointed out the issue to me after I'd completed my dissertation and I reran my model using a Poisson distribution I got almost the exact same results as I did from the incorrect ordinary least squares regression. Which actually demonstrates just how robust ordinary least squares regression is. This, as well as the fact that the dissertation is not structured in a way that allowed it to be readily revised into a book for scholarly publication, is why I never revised it and published it as a book. I did, however, publish a number of scholarly articles and book chapters based on parts of the dissertation, including the empirical explanations for terrorism and low intensity political violence.