Many of you have asked if you can help, and Avalune has emailed me the following: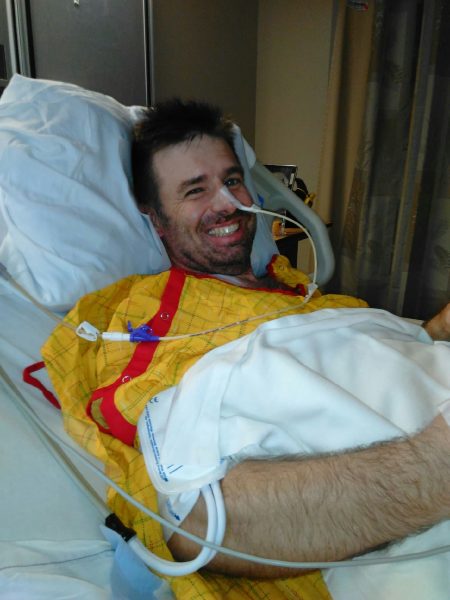 At 7:20 am on Wednesday, October 17, my phone alarm and ring tone went off simultaneously. I might have ignored the phone since no one calls me except to tell me my car insurance is expiring or I have four serious charges pressed on my name (why is it always four). But the alarm was going off and the name said Mike (commenter Leto). But the person speaking wasn't Mike. The reception was bad. I told him I couldn't hear him and asked him to hang on while I turned the alarm off.

But that isn't entirely true. I didn't hear every word but I hear what sounds an awful lot like "motorcycle accident." He steps outside and reintroduces himself. He say me Mike was in an accident and at the hospital. He asks if I know the location. No. I don't know any locations. My internal GPS has malfunctioned since returning to the states. I'll figure it out, I tell him. He says he will text the address.

When I get there, I only know he was in surgery. I retain about half what people tell me. He was hit by a car turning left. He was going pretty fast. It would have still been dark. He would have almost arrived at work. We were going to buy a car in three more days so he wouldn't have to keep taking his motorcycle. Now his motorcycle – or what is left of it – is in a Sunoco station somewhere.

More pieces come together over the next couple days. He saw that she was going to turn in front of him. He tried to avoid the accident. There was a 15 ft skid mark on the road, nice and straight where he tried to stop and move over without dropping the bike. He was going 33 in a 40 area. His breaks and headlamp are new. There was a car behind her which he probably assumed would zip around like they always do, so he didn't move over enough to be in oncoming traffic. He hit the car head-on next to her left headlight. A big chunk of her car is missing. There is a circle on her windshield that would have been where his head impacted. Was it at that point when the plastic shield on his helmet lacerated his upper lip? Or was it when he went over the top of her car and flew 13 ft away where was lucky the car behind her swerved and avoided running over his body? He was conscious all the way until they sedated him in the trauma center to start the work of stopping his bleeding. They tell me he was "pleasant."

His pelvis slammed into the gas tank on the motorcycle. There are huge dents where the force gave him an open book fracture of the pelvis. Did the open book shear then or when he hit the ground yards away? The bone cut through his body, permanently damaging some organs and leaving a gaping wound. Blood filled the area around the pelvis. This is often a fatal injury they tell me. The doctor kind of laughs as he says it. He laughs a lot when he talks. It's jarring to hear him laugh while he's saying the words "serious" and "life-threatening" and "lots of blood" and "we're going to cut up his abdomen because we have to make sure there's no contamination." Somewhere in that his tibia jammed into his kneecap.

Over the next few days we watched him lay immobile and sedated. They unstuffed and stuffed his wound. They put plates and screws in the front and back of his pelvis. They put a plate and screws in his knee. They let him come out of sedation. He was confused. Broke out in sweats. Hallucinated from a combination of the sedation wearing off and an adverse reaction to some of the drug changes. The walls moved. Dead birds replaced the surgical gloves. The hazmat bin was blood. But each day he showed improvement. Drugs adjusted. His mind started to be a little less fuzzy and his voice a little less raw.

His progress is remarkable so far. He has a long road ahead in therapy before he will walk again but the doctors are confident he will.

I don't know what kind of mess this is going to be financially but one of Mike's coworkers started a go.fund.me page for expenses. Over the next few days I expect he will begin to regain more dexterity in his hands and be able to comment for himself again and I can go back to the lurking. Thank you all for your support. Your messages cheered us both.

Heather/Avalune
Y'all are in our thoughts. Man I bet he is dying for a shave.