So, fellow Jackals,
I've got a piece up today in the Boston Globe on what firearm-suicides tell us about who is most at risk from a gun in the home.  The answer leaps out of the numbers — 2/3 gun deaths in the US are self-inflicted, and another notable fraction are murders within or close to the gun household.
What caught my eye amidst those numbers is the attempt by public health figures to frame the discussion of guns in gun-friendly states around safety rather than control.   So I wrote about it.
Trigger warning: an unhappy painting and more on a tough subject below the fold.
ETA: switched out the art to be slightly less on-the-nose.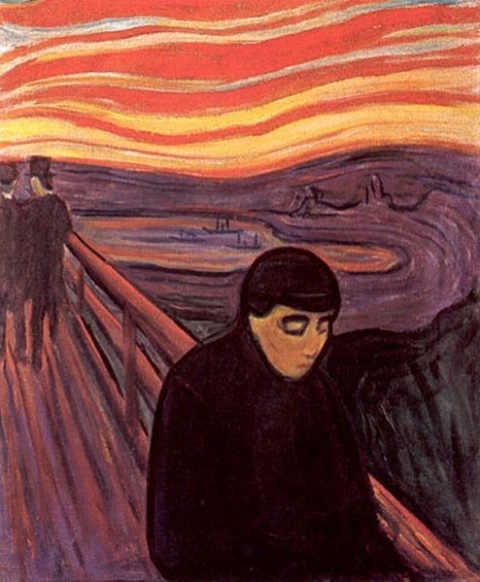 Leaving aside for a moment 2A fundamentalism, the core claim in much of the gun debate is that guns offer protection.  The numbers — and tons of real life experience around the world — say the opposite.  Guns work. They're effective. They do what they're designed to do.  Bringing such functional tools into the reality of human experience, where despair may take any of us, if just for a moment, is a lethal mixture. Not protection, but deadly risk.  Hence my conclusion:
In America in 2018, easy access to guns empowers those who hate enough to slaughter innocents. Many elected leaders have tuned out that argument, insisting instead on the benefits of still more guns. But the story of suicide in America directly confronts the myth that guns protect their owners and those whom they love. The old line about the phone call coming from within the house is doubly true here: A gun bought to ward off the dangers of the world outside brings those dangers right into the home.
I know and you know and we all know that the bare facts of what guns bring into a household won't transform gun culture or American law anytime soon.  But my argument and my hope is that increasing emphasis on the reality of who suffers most from easy access to a gun will, over time, shift the assumptions we carry into the battle to get guns out of the American public square.  A comparable circumstance came up in the reporting of the piece:
At a recent lunch with a number of suicide-prevention scholars, one noted that it wasn't that long ago that drinking and driving was regarded as a minor sin.

Now, after years of work led by Mothers Against Drunk Driving and others, driving after drinks is broadly unacceptable. This doesn't mean it doesn't happen — obviously it does — but as a society we've agreed that it shouldn't. With the evolution of legal penalties and behavioral norms, drunk-driving deaths have fallen by about half in the last 40 years.
I know and I agree: four decades is too damn long to live under the barrel of others' guns.  I'm not sure it will take that long, if we get a chance (vote on/by Tuesday!).  But we aren't getting anywhere fast as it stands, so at worst, this framework might offer a way to peel a few more out of the reflexive "guns-good" crowd…and we need each and every one we can get.
Go read it, if you have the stomach for yet another depressing topic. I'd value anyone's response.
Image: Edvard Munch, Despair, 1894.