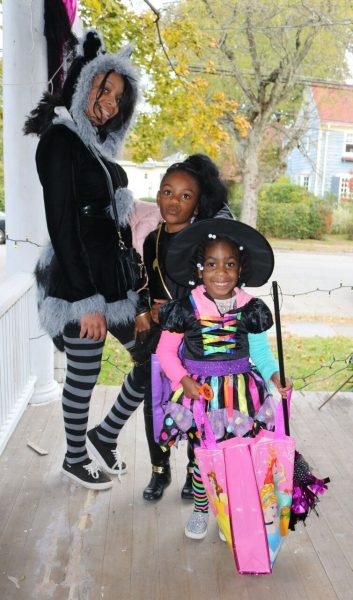 Garden season's pretty well over for most of us northern-hemisphere Balloon Juice jackals. So here's a gift from senior beagle rescuer and long-time commentor Tony S — "Halloween: Celebrating American Family, Community Diversity":
Let's get real. Heartland America isn't some 97% white community. Where the true pulse of America beats strongest are in its diverse, growing, vital communities.

I had a realization that night. Thanksgiving isn't America's only celebration of family. Halloween does that, too, with an added ingredient: Community.

Once a year, I get to stand on my porch and share with the neighbors I rarely see and the friends I don't visit with often enough.

Halloween is my wife, Celine's favorite holiday. Every year, she hands out not just candy, but hand-made goodie bags. This means we have a very good idea of how many people visit our home. This year the number topped 600.

It was wonderful seeing proud parents and thrilled kids grace our spooky, 115-year old home with their smiles, polite "Trick or Treats" and carefully crafted or freshly purchased costumes, from a 52-year old "Disco Grandma" to a spotted baby seemingly straight out of the crib.

Demographic analysts say true American heartland towns are a mix — the ratio is somewhere around 30/30/30 of the most prominent ethnic groups.

Liars, con-men and parasites try and make us fear the other — when they are the other, with their bleached personalities and toxic policies. Last night, in Peekskill, the real America was on view.



This is especially important to me because I'm an anchor senior. My mother arrived in America about 87 years ago at the age of four with her mother. She was brought in by her father, a political refugee from facist, bullying, lying toad-headed thug Benito Mussolini.

Purity is a poison. Variety and combinations bring strength. Useful tools and durable decorative objects are rarely made of pure metal. Alloys bring strength.

No community or nation is perfect. But if you want to feel pride, look at these images and the stories they tell.