Thanks again to everyone who donated. We gave to just about every Democratic challenger who flipped a seat last night. (I think it's actually all but one — Max Rose, who had the most surprising win of anyone, in a not under-the-radar district.)
Thanks a lot for the postcards too! And thanks to Maze Dancer for posting Postcard Patriots together. Here's a map of everywhere you guys pitched in.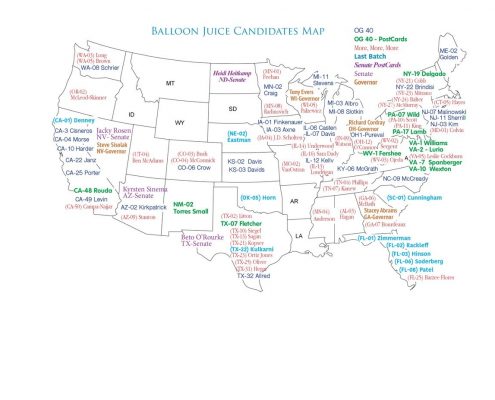 Time to start writing the next cipher, as the kids say. I want to make the fundraising and GOTV stuff permanent, close to 24/7/365, maybe with a little break now for a little R&R and Mueller time. Dems have a huge advantage right now in donations to candidates (as opposed to PACs) and I've got to think there's a way to use to help endangered incumbents: they could run ads year round and even in off years touting their accomplishments. We could also raise money split among all Dem challengers like we did before. And there also local elections in off years.
Speaking of local elections, please let me know if you're running for anything next year, and I hope the blog can help out! Also, please let me know of any kind of voter registration or other stuff we should be helping fund in an odd year.
Thanks again. To quote what Bill Murray said to the Fond du Lac Community College jazz ensemble, you guys are the most rag tag, undisciplined commenters I've ever had the most unbelievably heavenly pleasure of working with.