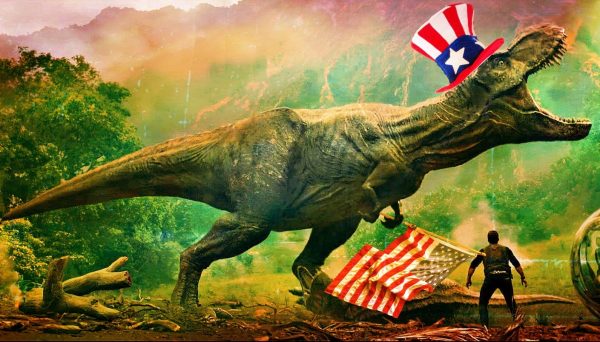 Did you know some of the founding fathers kept birds as pets and livestock? It's true — you can read all about it in the Federalist Papers. The right to keep and bear birds is as American as apple pie.
Now, some people claim that the right to keep chickens, parrots, ducks, peacocks, etc., shouldn't extend to a right to keep and bear a T-Rex that has been cloned from DNA found in blood consumed by a mosquito that was fossilized in amber.
That's an anti-science way of looking at it. Everyone knows modern birds are descended from dinosaurs like the T-Rex. On a DNA level, there's very little difference between a parakeet and a T-Rex.
While it's true that a T-Rex can bite people's heads off and slaughter dozens in just a few minutes, a parakeet could kill you too, or at least peck out your eye if you didn't stop it.
Every now and then, someone's pet T-Rex gets loose and kills a bunch of people. It's a tragic thing caused entirely by irresponsible T-Rex owners. So why punish responsible, law-abiding T-Rex owners for something they didn't even do?
Owning a T-Rex is thrilling and manly. Maybe if everyone had their own T-Rex, we wouldn't have to offer up our thoughts and prayers about these tragedies involving rogue T-Rex owners so frequently.
A T-Rex-armed society is a very polite society. Or at least a very STILL one.
[Image from Chicago Reader.]