Every time I see this nonsense argument I want to blow a fucking gasket. I just saw it again from some idiot on a friend's fb page: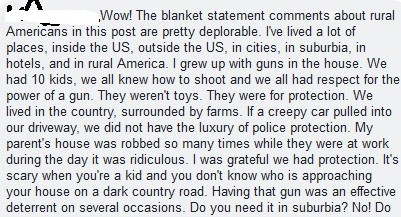 The "we can't do anything about guns because the rurals need them for protection" is the biggest bunch of bullshit ever. It makes me absolutely insane with rage every time I see it.
No one is coming for Pappy's shotgun. We've all fucking read In Cold Blood, fer fuck's sake. We're not talking about your deer rifle, your family heirloom 12 gauge, the revolver great great grandfather Cletus had from his time during the war of northern aggression, or the luger your great uncle got off a dead nazi in Bastogne. You will be allowed to have a weapon to protect your farmstead.
What we are talking about is trying to cut down on weapons with massive firepower that are more at home storming the beaches at Normandy than making sure no one is terrorizing you in your fucking doublewide. And it's little things- closing gunshow loopholes, performing background checks, banning assault rifles.
Jesus tapdancing christ.