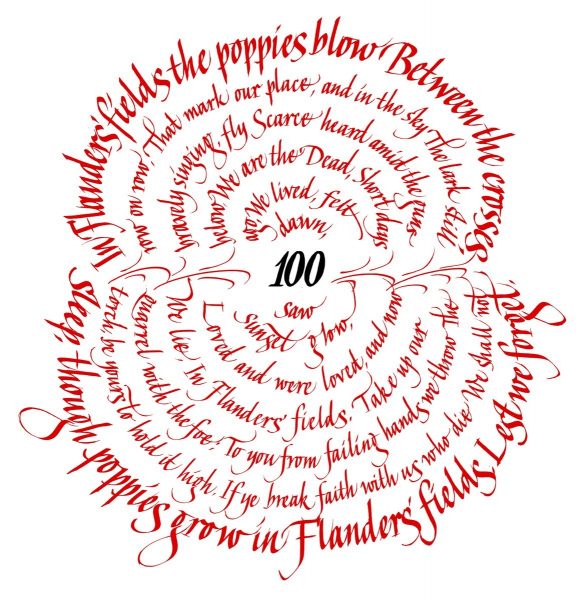 (Satwinder Sehmi's Calligraphy: In Flander's Field)
As Veteran's Day 2018 comes to a close, and with it the commemorations for the 100th anniversary of the end of World War I, it is important to remember that World War I did not actually end on the 11th hour of the 11th day of the 11th month of 1918. While it is true that the armistice was signed and peace talks would soon begin, World War I did not stop on November 11, 2018. Rather, and more accurately, it transformed into a series of low intensity conflicts that would simmer until reigniting into World War II. At the heart of those conflicts was a war of ideas. One of these ideas was national identity. Specifically, how ethno-national minorities that were left behind the lines, so to speak, when the armistice was signed would relate to the governments they now lived under, their ethno-national majority neighbors, and how those governments and those neighbors would relate to them. Out of these tense, taut, and often violent relationships between ethno-national majorities and minorities in post World War I Europe would grow other even more dangerous ideas such as fascism, in its corporatist, nationalist-syndicalist, and racist forms. Even, to a certain extent, Leninism, was unable to escape the nationalist tensions that resulted from the way World War I never really ended.
The great power competition that had led to World War I was changed by these clash of ideas – nationalism, fascism, communism – and, as a result, World War II and the Cold War were as much wars of ideas and ideology as they were wars of conquest and for territory. These ideas were about how to better organize state and society. And they placed the ideas of liberty and liberal democracy in all of its various types in direct conflict with the totalitarian ideas of fascism on the extreme right and communism on the extreme left. And just as different forms of liberal democracy would develop, so to would different variations of fascism and communism. These clash of ideas, of how states, societies, and even the global system should best be structured, would lead to both World War II, a long Cold War, the Korean and Vietnam Wars, and a number of conflicts fought by the proxies of the two post World War II superpowers. to a certain extent they are also an undercurrent in the US's seeming forever war against terrorism in Afghanistan and Iraq.
As 2018 moves towards 2019, the world is once again faced with a war of ideas. The ideas of well ordered liberty and its expression in the different types of liberal democracy are once again facing off against totalitarian ideas from both state and non-state actors. Vladimir Putin challenges the US and its EU and NATO allies and partners with his promotion of managed democracy as a façade for the kleptocratic organized crime state he has created in Russia. Xi Xinping, recently declared as President for Life, promotes his fusion of Maoism, state controlled capitalism, and Chinese nationalism through his Belt and Road Initiative. ISIS continues to promote an extreme version of tawheed, the Islamic theological understanding of the unity of the Deity, which includes violently imposing its doctrine on believers and unbelievers alike. 
The War to End all Wars did not do so because it could not do so. Nor did World War II. Now has any other war. So while we recognize and commemorate the 100th anniversary of the armistice that ended World War I, we need to be realistic about what we face both within and without the United States. We need to remain vigilant in order to ensure that well ordered liberty prevails in this 21st century war of ideas.
Open thread.