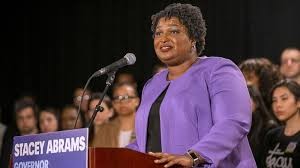 Stacey Abrams ended her race to become governor of Georgia last night, but she didn't concede. Via The Atlanta Journal-Constitution:
In her fiery speech, Abrams cited long lines at voting sites, closed polling stations and the cancellation of hundreds of thousands of voter registrations.

"To watch an elected official who claims to represent the people in this state baldly pin his hopes for election on the suppression of the people's democratic right to vote has been truly appalling," Abrams said.

"So, let's be clear. This is not a speech of concession. Because concession means to acknowledge an action is right, true or proper. As a woman of conscience and faith, I cannot concede that. But my assessment is the law currently allows no further viable remedy…"

"Now, I could certainly bring a new case to keep this one contest alive, but I don't want to hold public office if I need to scheme my way into the post," she said." Because the title of governor isn't nearly as important as our shared title: voters. And that is why we fight on."
Good for her. When you're robbed in broad daylight, you're under no obligation to make nice to the goddamned thief.
The Times offered the following analysis of the gubernatorial races in Georgia and Florida:
The narrow defeat of Ms. Abrams, who would have become the first black woman to be elected governor anywhere in the United States, as well as the apparent loss of Andrew Gillum, who sought to become Florida's first black governor, at once illuminated the vestiges of Southern history and demonstrated how demographic changes have taken hold across the region and begun to reshape its politics.

The two candidates ran as unabashed liberals and their strong showings in two pivotal states where Democrats have lately struggled is likely to keep the debate going within the Democratic Party over the best strategy for making gains in 2020. There is significant internal disagreement over which candidates the party ought to put forward and how they should run.
Ya think?
Make no mistake — Gillum was robbed too, but whereas Abrams was mugged in the public square by a smirking racist thug who was (rightly) confident his skin color and gender would allow him to get away with it, the votes stolen from Gillum and every Democrat in Florida were embezzled via a decades-long disenfranchisement project by white collar criminal-style Republicans like Jeb Bush, who piously speak of inclusion and reconciliation while quietly using the levers of white supremacy and patriarchy to tilt the playing field in their party's favor.
Y'all don't need me to tell you that that's a national problem, not a regional one. And that is why we ALL must fight on.