Took Lily to chemo today, and she got a clean bill of health, and basically all they said was that everything is great, her numbers are fantastic, come back in a month, and btw several of the vet techs were plotting to steal her: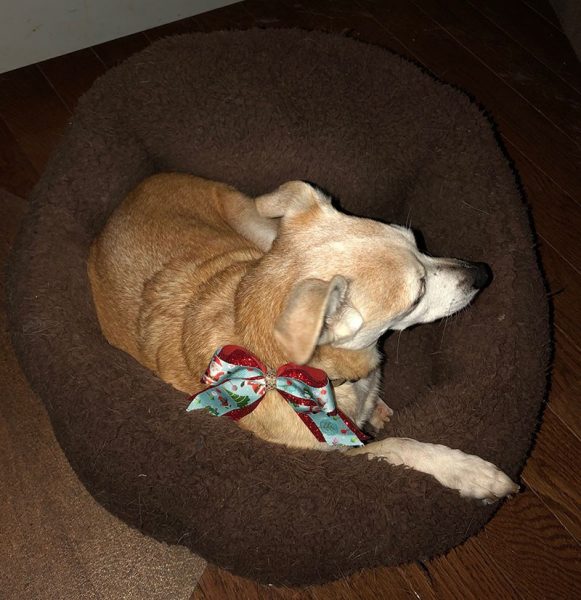 Since she is on no meds anymore except her monthly bloodwork and vincristine, this was the cheapest visit yet, at only 200 bucks. Which is down from when it was twice my mortgage a month, then matched my mortgage, to half my mortgage, to a 1/3 of my mortgage- you get the picture. So I am doubly happy today. She's worth it anyway.
I did make a tactical mistake, today, though, and went to Costco two days before Thanksgiving. I always go when I am up there for her treatments because I have nothing else to do, and dad wanted me to pick up some vitamins and a few other things. I wasn't at all thinking about the holiday, BUT EVERYONE ELSE IN THE GREATER FUCKING PITTSBURGH AREA SURE WAS. At any rate, it was a horror show, with a thousand people thinking only about themselves just wandering off leaving carts unattended, stopping in the middle of the aisles to talk on the phone, or just stopping everything because there is a god damned free sample of something they won't buy anyway. It just amazes me how much of the world operates like no one around them exists. The only people who get a pass from this sort of assholish behavior are the mothers with two or three kids running around raising hell. You can see it in their eyes that they are just 50% ready to go off like a hand grenade whose pin has been pulled but no one knows when or 50% ready to just sit down in the aisle and have a solid cry. I feel for them.
Everyone else has no fucking excuse. I do breathing exercises and try to tell myself "Hey, everyone there may be having the worst day of their lives, don't judge," and try to be kind, but it just drives me into madness anyway. Is it because people decide "this is going to be awful regardless what I do so might as well just let my asshole flag fly?" Is that what it is? Because that is the opposite of my logic. Maybe it's my past in the military, because my mentality is "Ok, this is going to be awful, let's do what we can to not make shit worse and maybe we will get out of here without any felonies, fatalities, or me becoming an infamous youtube star in someone else's video."
Regardless, I made it out alive, my dog is healthy, I picked up Chinese food for mom and dad, and now I am off to nap with Lily and Steve. Aren't you jealous?