The flower of white Mississippian womanhood is a fragile, and, apparently, none too bright thing. From Ashton Pittman and Ko Bragg at The Jackson Free Press:
JACKSON—U.S. Sen. Cindy Hyde-Smith demanded there be no audience or outside press allowed at tonight's U.S. Senate debate and requested other restrictions, two sources familiar with the debate negotiations told the Jackson Free Press Tuesday morning.

When she faces off against Democratic challenger Mike Espy at 7 p.m., only the debate moderator, panelists and the production team will be allowed in the auditorium—a requirement the Hyde-Smith campaign pushed for and the Espy team argued against.

"We supported having an audience, and we advocated for the media to have access to the studio," Espy Communications Director Danny Blanton told the Jackson Free Press, although he declined to confirm that it was the Hyde-Smith campaign that opposed a public debate.

Hyde-Smith requested and was granted other accommodations, the source said. A notepad was going to be at the podium for candidates when they stepped onto the stage at the start of the debate, but the Hyde-Smith team wanted the notepad sooner. The candidates will instead be given notepads about an hour before the debate begins. Hyde-Smith's team originally asked that she be allowed to bring in "a binder" but was denied, the source said.

"They have restricted this debate so much that if she bombs, it will be a miracle," the source said.

A second source who also asked not to be identified, though, said the debate was "rigged."

"They have rigged this debate for her to win," the second source said. "Espy's campaign wanted full access for the press and a live studio audience—they said no. Espy wanted no notes going in. Instead, she and her team will have time to build a crib sheet with everything she needs to say before hand. Espy wanted the candidates to ask the questions to each other directly—they said it had to be pre-submitted. Presumably that's because she isn't comfortable asking whatever gotcha question her handlers have hooked up."

The rules for tonight's debate, the second source said, are part of the campaign's strategy of minimizing risks for Hyde-Smith.

"This is all part of a larger strategy to keep her completely isolated from the press and make sure that anything she says is in a controlled environment where she faces minimal scrutiny," the second source said.
According to Pittman's and Bragg's reporting, Senator Hyde-Smith does not appear to be too bright, bless her heart!
On the campaign trail, Hyde-Smith's team has often sought to minimize her media exposure. Her campaign declined to have her join the Jackson Free Press for a sit-down interview to discuss the issues as Espy and her vanquished opponent McDaniel did. On multiple occasions, the Jackson Free Press has sought to ask her questions at campaign stops, but she would only answer after conferring with and making sure her communications director, Melissa Scallan, was nearby.

"I just do what she tells me to do," Hyde-Smith later said with a laugh as she took the question with Scallan standing beside her.
Which explains her inability to say anything but, "we've issued a statement" over and over in response to the video of her stating she'd show up for a public hanging.
Of course neo-Confederates are going to neo-Confederate!
It gets worse for Cindy Hyde-Smith, per @JuddLegum: in photos posted from the visit to the Davis house, she is seen posing with Greg Stewart. Stewart is listed by the Southern Poverty Law Center as a member of Free Mississippi, a hate group.

— Matt McDermott (@mattmfm) November 20, 2018
Wait a sec: Has *nobody* told Cindy Hyde-Smith that Abraham Lincoln was a Republican? https://t.co/7RZL8XbqqC

— Eric Kleefeld (@EricKleefeld) November 20, 2018
I'm sure Dartmouth's finest Federal felon, # 383017, will be along shortly to clear the confusion up for her any minute now…
Cause:
When Walmart thinks there's a moral problem w/ a Senate candidate, you know it's bad… https://t.co/EueBiKDoxL

— Rev. Dr. William J. Barber II (@RevDrBarber) November 20, 2018
Effect:
Roll Call shifts MS-SEN from solid gop to likely gop https://t.co/0N7zsudalC via @RollCall

— Josh Marshall (@joshtpm) November 20, 2018
Obligatory!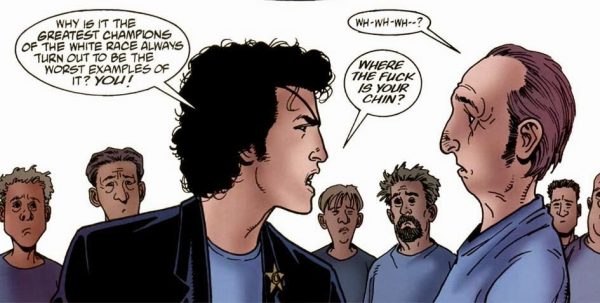 Open thread!