Here is what I believe may be a juvenile Great Blue Heron wading near the riverbank. It is approximately the size of an ibis. If I'm wrong on this bird ID, please set me straight in comments.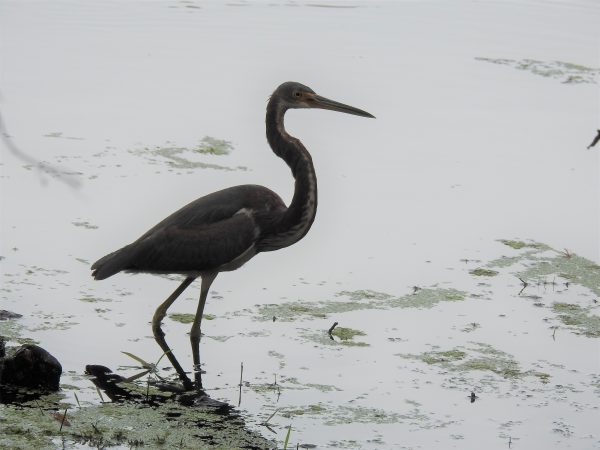 The mister and I both have the day off, and rather than doing responsible things like painting or caulking, we're going to have fun. First, we'll have breakfast at a delightful mom-and-pop diner we recently discovered. Who knows, maybe some NYT reporter on a post-election Deploraville safari will buttonhole us for our views on Trump — and boy, will he or she get a goddamned earful if so!
Then, we're going shopping for Thanksgiving side dish supplies, hardware odds and ends, etc. Shopping together is an activity that strains the bonds of our partnership since we have radically different philosophies on how to approach it. (This isn't the fun part, BTW.) We've mostly avoided joint shopping trips during our two decades-plus marriage. But since we now live in a literal howling wilderness, trips to town for supplies require time and planning, so we're learning to reconcile our shopping styles perforce.
Then, we're going to come home, pack a picnic lunch in a cooler, and go explore the river in a jon boat. That's the fun part. I hope to return with more waterfowl and wildlife photos, which I may share if y'all behave.
Open thread!