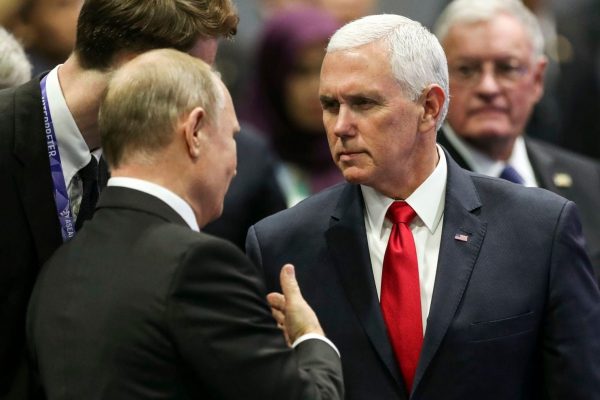 We've often discussed the mainstream media's failure to adequately adjust the way it covers politics in response to an openly corrupt president who lies all the time and is manifestly incapable of handling even the easier parts of his job, such as pardoning turkeys or giving thanks for The Troops instead of himself on Thanksgiving.
The Trump administration is a surreal shit-show, and I'm glad it's not my full-time job to cover it. But beyond the immediate danger Trump poses is the prospect that he will permanently lower the bar on political coverage. This column in The Post by Josh Rogin, which analyzes Pence's performance at a summit in Asia this week, is a handy example of that danger. In it, Rogin recounts Pence's alleged confrontation with Putin:
"So I looked at him and I said, 'We know what happened in 2016,' " Pence told me in an interview. "And I said, 'As the president has told you, we're not having it.' "

Putin denied that Russia had done anything wrong, but Pence stuck to his guns.

"And I said, 'Mr. President, I'm very aware of what you've said about that, but I'm telling you we're not having it,' " Pence said. "I wanted to reiterate what the president has said. I thought it was important he hear that from the vice president, too."
Ooo, Vlad is shaking in his boots for sure. But a careful columnist might have pointed out that we ARE "having it," since his own paper covered Russian efforts to subvert the 2018 election, unmolested by the current administration.
According to Rogin, Pence wasn't done dispensing the Blue Steel; after directing a resolute pout at Putin, he allegedly put China on notice:
Li told Pence to remember that China is a "developing nation," meaning it should get special treatment on trade. "And we got down to the corner, and we just stopped for a minute, and I just looked at him and said, 'Things have got to change,' " Pence told me.

Li was taken aback, with a look of surprise on his face. Pence then delivered the same message he had told me at the start of the trip: that the G-20 was China's best (if not last) chance to come to the table with a real offer to end its unfair trade and industrial practices.
A little skepticism on the part of the analyst would also be warranted here. Would anyone in the Chinese delegation really be "taken aback" by Pence delivering in quiet-yet-resolute tones the same vague assertion Trump bellows daily?
Also, this is clearly Pence's account of the encounters, and honestly, it sounds like one of those tall tales in a RedState comments section where a wingnut self-reports his confrontation with dirty hippies on a subway who dissed The Troops. But Rogin wasn't skeptical, nor was a colleague at Bloomberg:
"Pence did what President Donald Trump rarely does: stay on message, calm nervous security partners and clearly lay out a vision for American foreign policy," wrote Bloomberg's Toluse Olorunnipa. "While Asian leaders listened closely to Pence, many were waiting to see if Trump would do something to contradict him."

Everybody talking to Pence understood that he represented only what Trump's position was that day and that Trump could change his mind the following day for any reason. There's a level of Trump's unpredictability that even Pence's Spartan-like discipline can never overcome.

But don't believe reports that world leaders were upset Trump wasn't there. They were fine dealing with Pence, and Pence was in his element. Trump sees the boring work of diplomacy as a nuisance. Perhaps sending Pence in his place is a win-win arrangement for both of them — and the country as well.
If Rogin described a diplomatic coup in that column, I missed it. Pence, the most obsequious of toadies, delivered the message he always does, which is, "What Boss Trump said."
Rogin seems so desperate to write a standard analysis that doesn't include Trump's weird dictator fetish or bizarre compulsion to belittle allies that he's ready to laud Pence as the modern day Talleyrand. That impulse will be dangerous in the post-Trump era.