I had a good bit of stuff to do today, but it was really just a beautiful day, so I did none of it. I've mentioned before that I hate the fall- everything is so overcast and my allergies act up from all the mold, and the rain- blech. I do, on the other hand, love days like today, where it is sunny and a crisp 40 something degrees out, and I can throw on some wool socks and my overalls and be the perfect temperature all day.
I was close to running out of apples, so I decided I would take a drive on the back roads to the orchard, and since every time I go I call around and see if anybody wants any, I stopped by Harry and Chatman's bed and breakfast. For those of you who are new here (assuming there are newbies), Harry and Chatman run the most amazing little bed and breakfast on farm about five miles from me called Barn With Inn. You should check out their website and if you are ever going to be around these parts or driving through on your way somewhere else, you should reserve a room and stay for the night. It's one of my favorite places on the planet.
BTW- Chatman said some of you readers stopped by for a few days but for some reason did not email me before going (actually I can think of a bunch of reasons why I wouldn't call me if I were going somewhere on vacation near me, but that's just because I am German and the self-loathing runs strong), and he said you were his favorite guests of all time. So you should go back!
At any rate, when I arrived at the farm, Harry and Chatman were nowhere to be found, so I just got out and hung out with the animals. As you can see here, the ladies were VERY upset that Chatman was not around to receive the day's egg delivery, and were standing at the doorway raising a ruckus: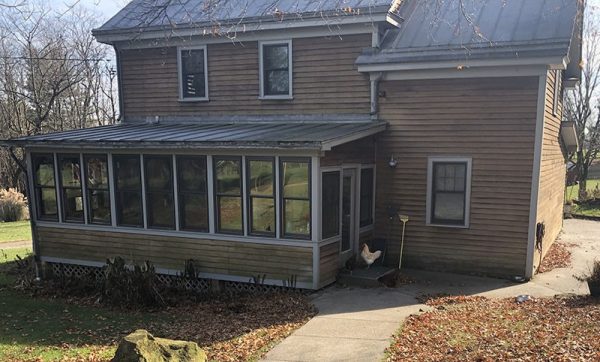 The dogs were all locked inside and the barn was sealed up so I didn't get to say hi to Buddy Ray or the others, but Coop was wandering around so we sat for a while and had a chat: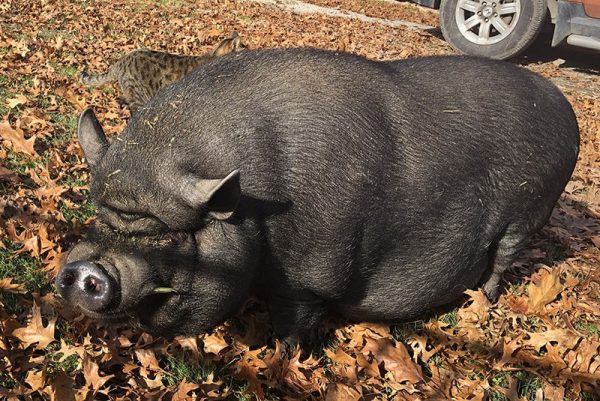 I apologized profusely about the pork shoulder in my freezer and swore up and down it was no one he knew, but he was having none of it, grunted a few times, and wandered off, giving me the, umm, cold pork shoulder (I should have my ass kicked for that and groaned while I wrote it):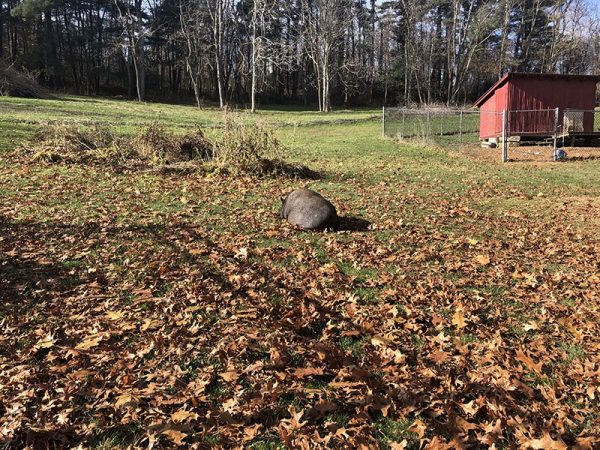 I did get stalked briefly by a feral bobcat, but apparently the wild beast decided I was too much hassle to hunt, sniffed me and let me live.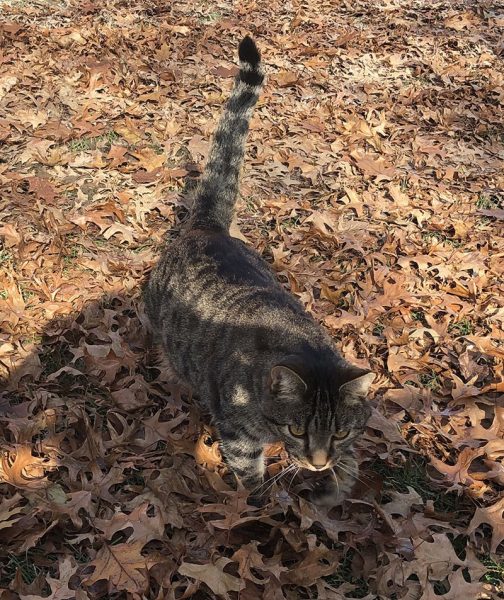 I waited a bit longer, but still no Harry and Chatman, so I left for the orchard. Again, it was a beautiful day with no cars on the road, so it was a nice drive. I took in the sites and listened to some Outkast, and finally got to the orchard: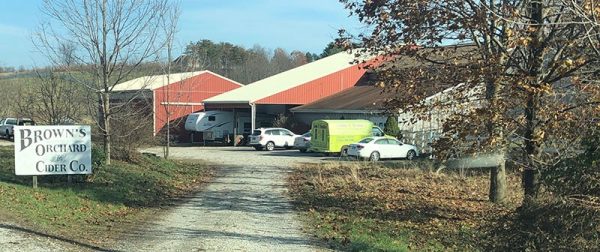 As always, they had a wide variety of apples for sale: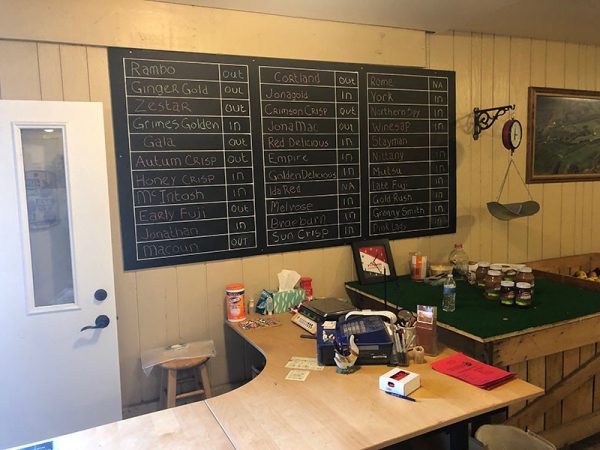 I wandered around the crates of apples while trying to make a decision- I'm really like a kid in the candy store there. I got a bag of Ruby Frosts and Honeycrisps for my friend Ashley, and for myself I got some Ruby Frosts (I got those the last time and loved them), some Empires a smaller apple that doesn't last as long stored as some others, and a new apple (to me) called the Gold Rush: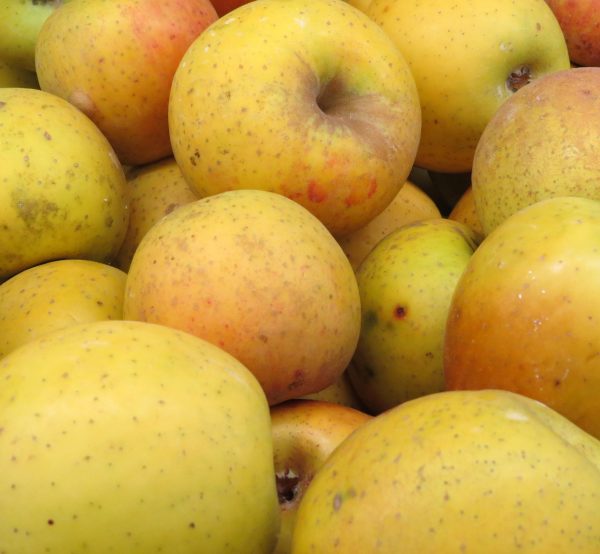 Whereas the Ruby Frosts are hands down one of the most beautiful apples with their deep burgundy color and red and yellow/orange swirls, the Gold Rush is kind of an ugly little apple. It's a dark yellow, the skin is rough with a texture almost like a hybrid of an apple and an asian pair, and the skin is a little mottled in places. They look like the kind of apple you would pick off a tree growing in your own yard, if you know what I mean. They payoff, though, is in the consumption. It has a thick, hard and crisp skin that gives a great crunch, and the apple is very juicy, with a great mouth feel, an initial little tang (but nowhere near the tart of other apples), followed with a thick sweet finish. Even though they are a small apple, they are very dense, and eating one of those takes longer to properly enjoy than say a Honeycrisp.
I sat and chatted with the owner for a bit, and when he bought out his grandfather decades ago, they only had six varieties of apples, and don't even grown some of them anymore. I forget what all of the six were, but I do remember that the Rome was one of them, and I realized I have not had one of those in ages. I told him that if I had to rank my favorites so far this year, I thought the order would be the Ruby Frost, the Gingergold, and the Gold Rush, with the Nittany's a close fourth. My brother is stopping by on his way home tomorrow, and I told the owner to make sure he gets some of the Gold Rush.
After that, I left and went to the grocery store for some celery, carrots, and ham hocks, and right now I have a delicious pot of black bean soup cooking. The store also had these marvelous shallots that were the size of half dollars across, and I minced some of those up to put in. On my agenda tonight is black bean soup, WVU football, and setting up my fitbit because once again the doctor said there is too much of me and we need to tone it down a notch. In fact, here is a recreation of my last visit to the doctor, with a large cat playing the role of me:
Big fan of this picture of a veterinarian showing a cat how fat he is. pic.twitter.com/ZWZMZNxsGT

— ? Ekimmara ? (@carson__hudson) November 22, 2018
At any rate, today was a good day. I can get the other stuff done tomorrow.
*** Update ***
The soup turned out well: