Update at 7:25 PM EST
Cliosfanboy sent a picture of Mom Cat across while I was at the gym, so here she is in all her glory!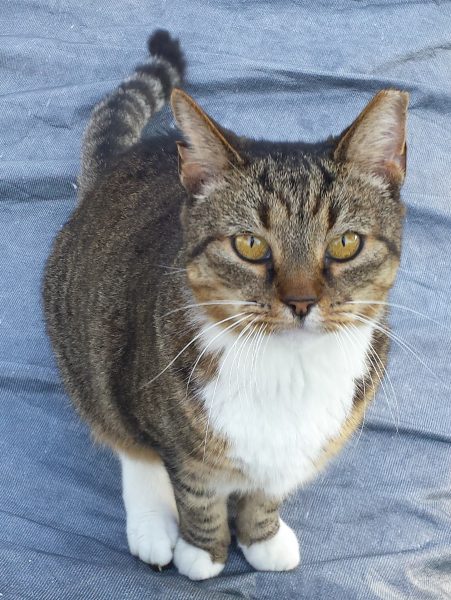 Commenter Cliosfanboy has sent in a request for cat acclimation advice. Here's the details:
Hi all. My wife and I have been taking care of a feral cat colony since 2010 with help from Alley Cat Allies. It started with a batch of kittens born to a single feral in a collapsed shed in my neighbor's back yard. (the neighbor, and the shed, are long gone now) By coincidence my wife knew the President of Alley Cat Allies. She lived nearby so she gave us advice and help. AC Allies recommends Trap/Neuter/Release (TNR). You catch the cat via a humane trap. You have it neutered, tested, and vaccinated by a vet. They notch one ear so animal control and vets know it's been fixed and vaccinated. Then you release it back to its home. Many ferals are not adoptable because they're too wild, and more ferals will move in to take their spot if you just remove them. Once they are fixed they tend to be calmer, so there is much less fighting between cats. So far its worked for us.

In the past eight years we've had numerous cats living on our property. We bought specially made insulated cat houses so they have shelter during cold and wet weather, and we feed them every day. Some have moved in and then moved on (or passed away). One neighbor had problems with cats using their garden as a toilet, so I gave them some cat repellant which seems to have worked. Two of the original kittens survived to adulthood. One moved to a nearby house and was adopted. Another was killed by a wild animal. That one really saddened me as he was my favorite.

Why this post? Well, we have two cats now and my wife and I are thinking of moving. We've outgrown our little post-WWII Cape Cod and are looking for a larger place. But we took responsibility for the cats so we're not going to just abandon them.

One of the two cats, Mom Cat, we think is adoptable. She comes out to greet us when we get home and keeps me company when I work outside. She lets us pet her, will sit next to me when I am sitting outside, and has even climbed into my lap. In the past we've not let her inside for a couple reasons.

My wife is (probably) allergic
We had three dogs and they are not all cat friendly.

Now, however, things have changed. My wife thinks that her allergy may be to only longhaired cats (long story) and Mom Cat is shorthaired. (you can see her photo on BJ calendars). Also, we are down to two dogs. Our eldest, Rocco, passed away in August. (God, I miss him). We actually thought the other two would be a bigger problem, but Mom Cat was recently in our house briefly and our Sonia did not bother her at all. (Mom Cat snuck in while I was carrying in groceries) That leaves our dachshund Spud.   If he can be trained to leave Mom Cat alone we think we can try to start to acclimate her to inside life a bit. That means when we move we could bring her along (hopefully) or she could be adopted by a cat person.

OK, here is what I want to ask of the Balloon Juicers.

We need suggestions/advice on how to introduce Spud the Weiner Dog to Mom Cat. Neither Spud nor Sonia bark at the cats and they've sat and simply watched when I've gone out the door with Mom Cat waiting for me outside.
How do I best slowly acclimate Mom Cat to the indoors. She will likely not want to live indoors all the time.
Are there any other BJers in the northern Va/DC area who is a cat person willing to try to see if they can work with Cat #2, AKA Gray Mom? Gray Mom does not let anyone pet her, nor can we get close to her. She may be permanently feral, but if there is a cat whisperer around here we'd love for their help. . My wife would prefer that we find a home for Mom Cat too.

I should note that neither my wife nor I had cats growing up, so I am not sure how to even pick one up! I can't find the handle anywhere!!! But we'd appreciate help. Thanks.
You all know what to do!
Open thread!