Trump acting out on Twitter like an unhinged 12-year-old whose parents have banned Fortnite is no longer noteworthy. But this morning, he seems especially out in the deep end sans a pool noodle, so I thought I'd mention it. Some of his output is standard fare in this degraded era, such as this foam-flecked whine about the Mueller investigation:
While the disgusting Fake News is doing everything within their power not to report it that way, at least 3 major players are intimating that the Angry Mueller Gang of Dems is viciously telling witnesses to lie about facts & they will get relief. This is our Joseph McCarthy Era!
The "3 major players" would be Stone, Corsi and Manafort, I guess? Good Lord, how sweet it would be to see that trio shuffling off to prison in leg irons. I've never been a big believer is Mueller Claus, but Trump's obvious desperation has me listening for reindeer hooves on the rooftop!
Trump also retweeted this image from one of the crackpot sycophants who god-bless his every crazed tweet: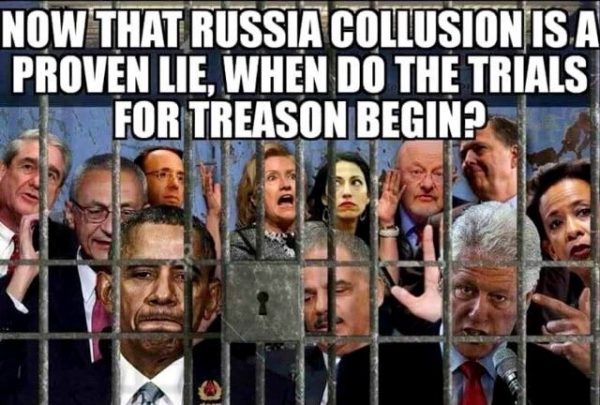 Of course, it's normal in our degraded age for the president to demand prosecution of his political enemies like a tinpot dictator. But Rod Rosenstein — current Republican Deputy AG of the USA appointed by the Trump admin and an alum (along with Brett Kavanaugh) of the Starr investigation is depicted in that cell. That seems to cross a new line, I dunno.
I have no idea what's happening with the Mueller investigation, but knowledgeable folks who follow it closely seem to think something's about to explode. And Twitler, perhaps through insights gleaned via the partisan hack he (illegally) passed over Rosenstein to set in supervision of Mueller, seems to think so too.
Open thread!