Here's a limpkin looking for apple snails by the river's edge: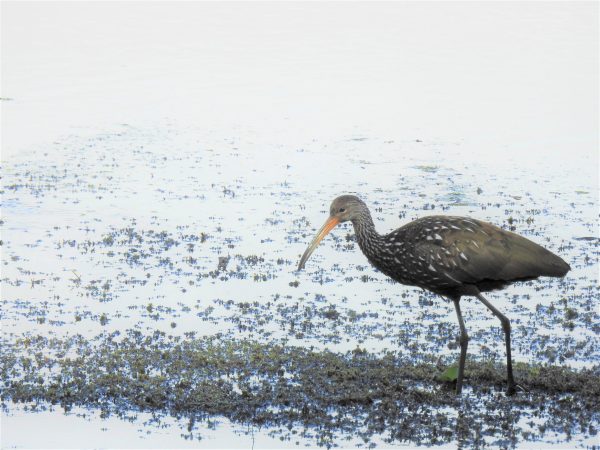 It got a big honking snail a few minutes before I took this shot and scurried off into the vegetation with it. I saw a pair of limpkins near this spot escorting some downy younglings along the bank a few days back. The little ones looked exactly like mallard ducklings, only with extra-long necks. Anyhoo, I suspect it is hustling for snails to feed the family.
This is the greatest spot for birding I've even been in, let alone lived in. That same limpkin was foraging next to three other species earlier: a little blue heron, an ibis and a tricolored heron.
Last night when we were sitting on the porch, we kept hearing barred owls calling all around us, and then one swooped down right across our field of vision in pursuit of a small critter that was shrieking in terror. I think the prey got away, but it was very close.
It's a bit chilly here today by our standards — lows in the mid-40s and highs in the low 60s. The mister works outdoors, so I'm making pot roast to knock the chill off. (I've forgiven him for forgetting my Pepcid the other day.)
What's going on in your neck of the woods? Any predictions on which shoe will drop next off the Trump-Russia millipede? Feel free to discuss whatever — open thread!