It's rainy and cold and shitty here. BFF Tammy is in town for the weekend, as she came up for the annual church Christmas bazaar that my mom and dad were in charge of this year (Tammy is basically the fifth child, and spends as much time as my parents house as she does here and has sleepovers and watches tv and chats with my parents- which is good, because they are all talkers and it is good to keep them segregated from the gen pop). At any rate, I picked up what is called a "bird bowl" but pretty much looks to me to be a bird house from the local potter: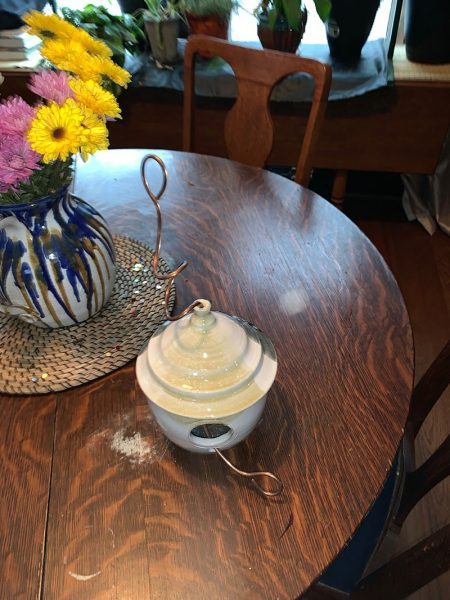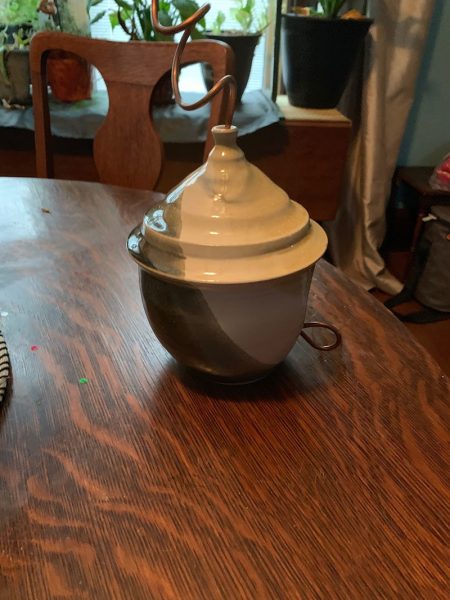 I'm going to hang it on the front porch near where the fern that hatched my bebbies this spring hangs, so maybe if mama bird comes back she will have the option for an upgrade to a luxury condo. The potter is friend of the family Herb Weaver, who many of you may remember as the man who did the excellent tile work in my bathroom.
At any rate, not much going on here tonight. Weather has kind of dimmed spirits and we're in homebody mode. Watching Alabama play Georgia and of course rooting for the Dawgs, as it is one of mom's alma maters and we watched them our entire lives. Also because we love UGA (we're up to Uga IX now!).