The Center for Medicare and Medicaid Services recently released an audit study on the doctor and hospital directories that Medicare Advantage insurers are required to supply to members.  Directories are supposed to tell insurance buyers what doctors and hospitals are in network, where those offices are located, how to contact those offices and whether or not the doctor is taking new patients from a particular insurer.
The results are abysmal.
The majority of the MAOs (28 out of 52) had between 30% and 60% inaccurate locations.Because MAO members rely on provider directories to locate an in-network provider, these inaccuracies could pose a significant access-to-care barrier.
Inaccuracies with the highest likelihood of preventing access to care were found in 41.7% of all locations.
A few thoughts.  First, CMS is doing a damn good job of conducting effective oversight.  Secondly, I spent several years at UPMC Health Plan working making their directory and provider information systems hum.  I don't think that it is ever possible to have a perfect directory.  As soon as the TRUTH is validated, it will change.  However there is a wide degree of errors.  Table 6 in the report gives me hope and disgust at the same time.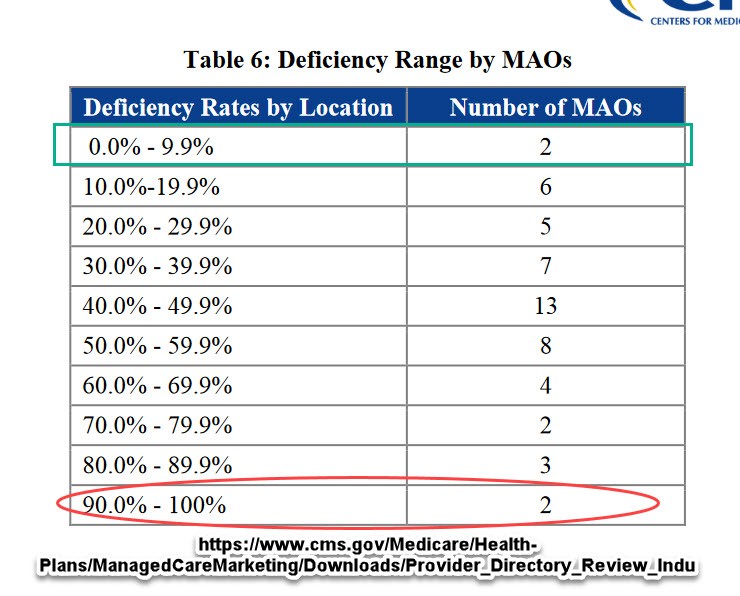 Two insurers showed that good to very good directories are possible.  Two insurers make a complete farce out of the idea that people can rely on directories.
Getting a directory right or at least good enough with a low error rate that is quickly corrected requires time, money and insurer management give a damn.
The CMS report highlights some of the typical problems.  The biggest drive of bad directories is that the data is stale and the insurers rely on provider self-report.  Insurers see good provider information when they go over a doctor's credentialing package.  This package is needed for the doctor-insurer contract.  It will contain licensing information, practice locations and contact information.  After the contract is signed, the data might be reviewed in three to five years.  Any updates usually happen because the provider reports something.
I firmly believe that any data element that does not drive provider payment will not produce timely, accurate nor complete provider data.
Insurers that want to get good directories need to spend money and give a damn.  They need to actively check provider information against national databases.  They need to audit at least a proportion of their provider universe on a consistent basis.  They need to send out account representatives to verify addresses.  When one of their employees goes by a soon to be knocked down strip mall on the way to a D-3 women's soccer game he is about to referee, the insurer needs to update the address status of the large primary care office that was in the strip mall.  All of this takes time and money.
Directories are still seen as mostly a cost-center and not a profit center.  CMS or state regulators can increase the costs of bad directories either directly with fines or indirectly by removing stars, changing auto-assignment policies for Medicaid managed care or increasing the scrutiny of plans that need state approval.  Giving a damn so that people know what the hell they are buying should be a minimal first step in an environment where we expect the individual buyer to assert market discipline on insurance premiums and medical costs in general.