The Obamas, Clintons and Carters were having a lively, pleasant conversation at the National Cathedral while awaiting the start of GHWB's funeral:

Then the Trumps showed up: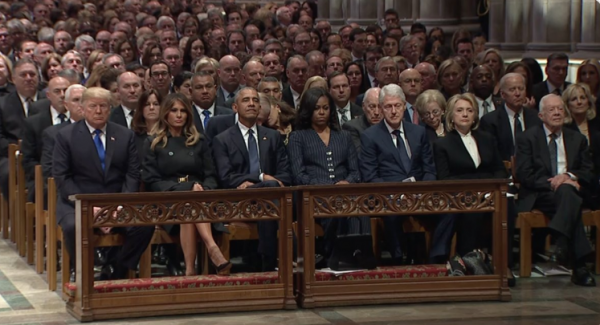 Watch Hillary Clinton stone-cold pretend that orange motherfucker isn't even there:
Here is Michelle Obama walking the walk and going high with a handshake and a cool-ass "what up" nod. LIKE A BOSS. #GeorgeHWBushFuneral pic.twitter.com/1oahDSDl4d

— Amee Vanderpool (@girlsreallyrule) December 5, 2018
I can't tell if the eulogizers are low-key slamming Trump or no. Any recitation of virtue seems like an implicit criticism since Trump is so utterly devoid of that quality. The presidential historian mentioned GHWB's "big hands." Hmmm.
Open thread!