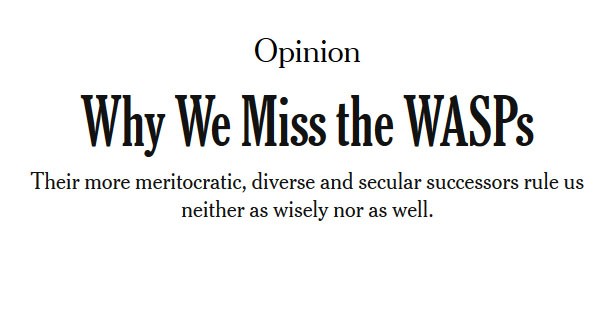 Someone tell Douthat the cilice is supposed to go around his thigh, not his neck, and he's cutting off the oxygen to his brain:
The nostalgia flowing since the passing of George H.W. Bush has many wellsprings: admiration for the World War II generation and its dying breed of warrior-politicians, the usual belated media affection for moderate Republicans, the contrast between the elder Bush's foreign policy successes and the failures of his son, and the contrast between any honorable politician and the current occupant of the Oval Office.

But two of the more critical takes on Bush nostalgia got closer to the heart of what was being mourned, in distant hindsight, with his death. Writing in The Atlantic, Peter Beinart described the elder Bush as the last president deemed "legitimate" by both of our country's warring tribes — before the age of presidential sex scandals, plurality-winning and popular-vote-losing chief executives, and white resentment of the first black president. Also in The Atlantic, Franklin Foer described "the subtext" of Bush nostalgia as a "fondness for a bygone institution known as the Establishment, hardened in the cold of New England boarding schools, acculturated by the late-night rituals of Skull and Bones, sent off to the world with a sense of noblesse oblige. For more than a century, this Establishment resided at the top of the American caste system. Now it is gone, and apparently people wish it weren't."

I think you can usefully combine these takes, and describe Bush nostalgia as a longing for something America used to have and doesn't really any more — a ruling class that was widely (not universally, but more widely than today) deemed legitimate, and that inspired various kinds of trust (intergenerational, institutional) conspicuously absent in our society today.

Put simply, Americans miss Bush because we miss the WASPs — because we feel, at some level, that their more meritocratic and diverse and secular successors rule us neither as wisely nor as well.
Look I'll just stop there because it's quite clear that Douthat completely misses the point. First off, there is not widespread nostalgia for Bush, as I know quite a few people who are not too nostalgic for him whatsoever, and they've spent the last week being tone policed about not speaking ill of the dead. So we can dismiss the notion of universal remorse for the days of yore. Any nostalgia over Bush, such that there is, is rooted in one simple thing- that the current Republicans, as embodied by Trump, are so much worse than the deeply, deeply flawed Reagan/Bush/Quayle/Bush Wasps.
That's fucking it. Let me explain this with a tweet:
The president is being congratulated for not ruining a funeral https://t.co/uEov0sfURd

— Ike Barinholtz (@ikebarinholtz) December 4, 2018
And another thing- the assumption here is that white people have stopped running the show, and that minorities and more secular and diverse people have been running things, and have not lived up to the WASP standard. I hate to break it to Pope Douthat, but white people are still running (ruining?) shit, and this current mess is on them. I mean jesus tapdancing christ.
I could go on, but why? That is it. The End.