Because every now and then we can take note of undiluted coolth that has exactly no political content.
The news came a few days ago, but on cosmic time scales that's still hot of the presses:  LIGO, the twin instrument gravitational wave detectors, in collaboration with the European VIRGO detector, announced the discovery of four new black-hole collisions, measured in the gravity waves given off by those titanic wrecks.
That's hot stuff:  the report of the first gravity-wave detection came just two years ago, paying off a prediction first made (tentatively) by Albert Einstein almost exactly a century earlier in his general theory of relativity.
In its most compact form the general theory boils down to a single equation, just one short line of symbols.  The quip is that in relativity, it all boils down to space and time telling matter and energy where to go, while energy and matter tell spacetime what shape to be.  A gravity wave is that joke in action: matter-energy in violent motion jostles spacetime into waves we can, only in the last few years, actually see.
Since the first time human beings detected a gravity wave in the wild, 2015 ten more events have been recorded — nine more black hole collisions and one neutron star smash-up.  In that short time, gravity wave research has gone from theoretical possibility to a breakthrough discovery to a branch of observational astronomy.
That is: gravity waves are no longer strange, singular events (or not that strange, and not truly rare).  Instead, they're becoming objects of investigation in which statistics are starting to accumulate:  there's now a catalogue of gravity wave events, which is astronomy's way of letting itself know there's a newly observable sky up there.  New properties are being explored — one of the events recorded in this latest run opens the exploration of gravity wave polarization.  Perhaps most important, the neutron star collision produced an electromagnetic signal as well as a gravitational one — meaning that folks using conventional light gathering telescopes could also observe the event.
That's genuinely transformative, the capstone to the 2oth century sequence of discovery that transformed how we see the night sky — an extension of human perception greater, perhaps, even than that Galileo launched with his telescope.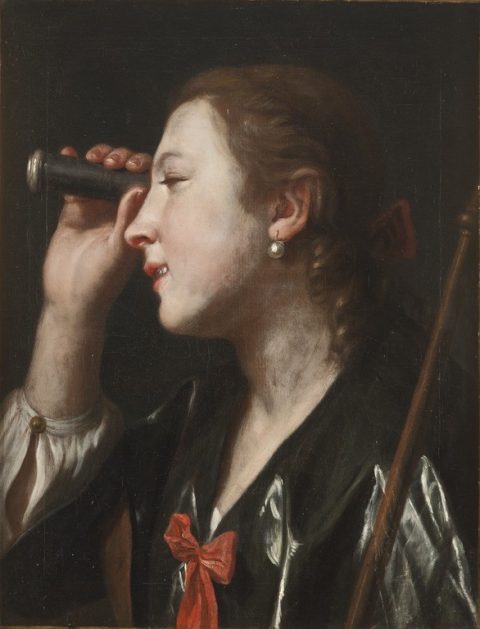 From the middle of the century forward, our ability to look into the night sky expanded throughout the electromagnetic spectrum, from gamma rays to radio waves.  The universe became richer, more detailed, more beautiful and more strange…as you can see below in the multi-spectrum image of the Milky Way: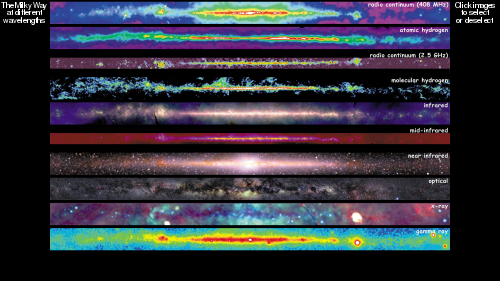 It's important to realize that these aren't just pretty pictures.  The details of the radiation that an object gives off is a window on the physics that produces one signal or another; the distribution of the energy released in across the electromagnetic spectrum is a probe of the life, times, and history of a star, a galaxy, or the cosmos as a whole.  What makes the birth of multi-messenger astronomy so sweet is that it adds a whole new mode of inquiry — as more detections accumulate of events that produce both light and gravitational waves, researchers will be able to build an ever richer picture of how our universe actually works.
Doing so won't affect the price of eggs. It won't solve climate change.  It won't make it easier to navigate the Maze on the Oakland approaches to the Bay Bridge.  It is just beautiful, and that only for those who've got the taste for abstract forms of beauty.  As the remnants of stars collide, reality judders — and we can now watch it happen (or happened…as each of these events happen billions of light years distant, which means they occurred billions of years in the past).
It boils down to this, for me, and maybe for you:  we have all the evidence we need, overflowing daily, of the crap human beings do, and the misery — often in our names — that people do to each other and the world.  I find it joyful, and at least a bit of an antidote, to remember that our species, our tax dollars, and some of our contemporaries, can perform something so difficult, disinterested, and purely, deeply, ridiculously cool.
Open thread.
Images:  Pietro Rotary, Girl looking through a telescope, before 1762.
CMG Lee, Comparison of photographs of the Milky Way at different wavelengths, 2007.
*With apologies to DougJ for borrowing his schtick…and a bonus performance of what lies behind the title: