Yesterday, John embedded the President screaming into the void that he can fix healthcare again:
A statement by the President: pic.twitter.com/vNXlXfaee6

— Real Press Sec. (@RealPressSecBot) December 17, 2018
He could have taken a W on healthcare after last year.
I made this argument in the New York Times in October 2017:
President Trump once promised a health care plan that would have "much lower premiums and deductibles while at the same time taking care of pre-existing conditions."

That plan may be Obamacare. Mr. Trump's decision to end cost-sharing-reduction subsidies, known as C.S.R.s, and perhaps to derail a bipartisan bill by Senators Lamar Alexander, Republican of Tennessee, and Patty Murray, Democrat of Washington, that would restore C.S.R. funding through 2019 may actually lead to better coverage for more people paying lower monthly premiums….

By pulling the plug on C.S.R. subsidies, President Trump can claim that he will provide a better deal on health insurance for more Americans. He and his fellow Republicans should declare victory, with or without a version of the Alexander-Murray bill — and check health care reform off their legislative list.
North Carolina is a good example of the facts on the ground regarding prices paid by subsidized individuals.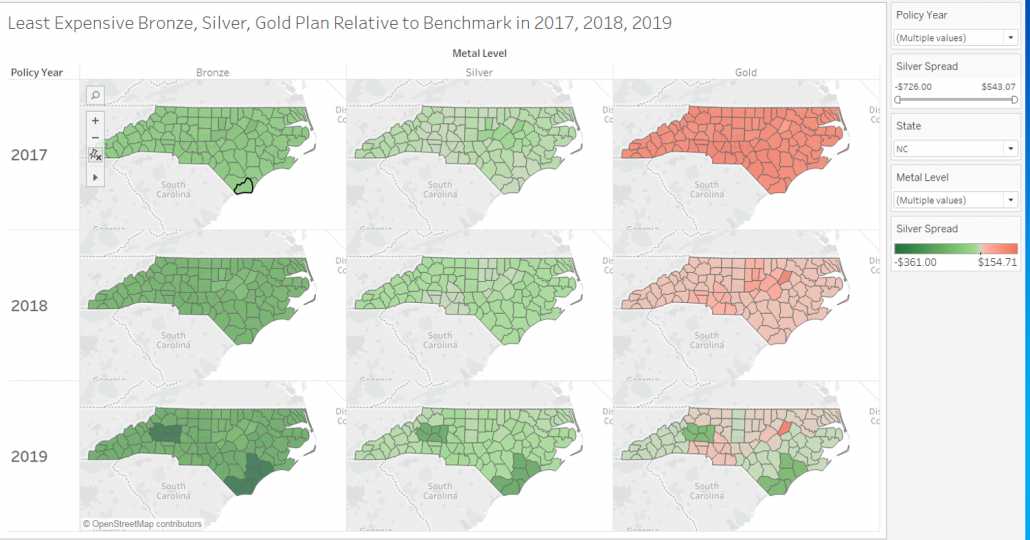 People earning between 100% and 400% FPL have lower premium plans with lower deductibles now under Trump than they did under Obama.  In Wilmington, North Carolina, a family of four can get a $0 Gold plan with a family income of at least $65,000.  That same family can earn up to $98,000 to get a $0 premium Bronze plan.  These types of pricing spreads are not uncommon.  They are the direct result of Trump Administration policies.  The biggest driver is the termination of Cost Sharing Reduction subsidies that led to the overinflation of Silver benchmark premiums.
The problem with this fundamental argument of people actually being able to find insurance with lower premiums and higher actuarial value is that this is not the vision of health insurance that animates conservative policy making. It would not be considered a victory. Instead, the conservative vision is low actuarial value plans that are tied to health savings accounts.  There is a two fold theory of change:
theory of change with the use of HSA in both a single year and over a lifetime. The single year theory of change is that high first dollar expenses will lead to lower utilization with minimal real health consequences as people become expert shoppers and evaluaters of health care need and value. The lifetime theory of change is that an HSA can be built up while an individual is young and healthy and spent when an individual is old and sick. It prefunds some of the expected health cost obligations on an individual level.
The reality on the ground would allow for the President to claim a victory as he at least partially delivered on his rhetoric but it conflicts with the policy class of the GOP's policy vision.