Kevin Drum has taken my Steele dossier analysis and made some evaluations of the claims. Here's what he came up with: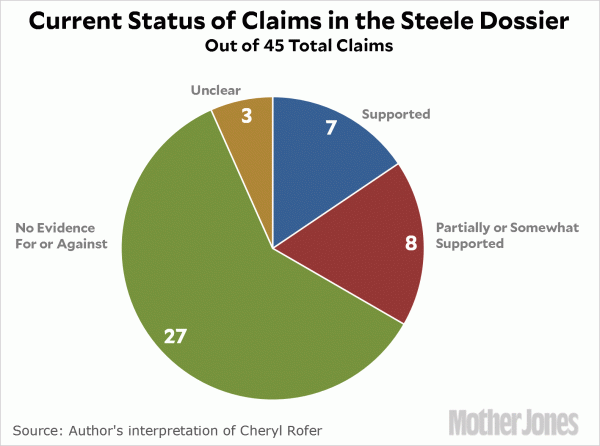 It looks about right to me.
Kevin:
Aside from three oddball claims that I couldn't really classify (6, 7, and 19 if you're counting), it looks to me like the dossier includes 15 claims that are now fully or partially supported and 27 claims for which we have no evidence so far. These 27 claims include a fair amount of insider Kremlin gossip.

What I found most interesting is this: although there's no public evidence one way or the other for these 27 claims,² there doesn't appear to be a single claim that we know with certainty is false. There are claims that have been denied by the American participants, but none that we have documentary proof of being mistaken. Partly this is because it's hard to prove a negative, but it's still surprising that not a single claim in the report has been conclusively debunked. It's especially surprising since the dossier is a patchwork of raw intelligence, and even if it was well done by competent professionals you'd still expect it to include at least a few claims that, two years later, we could say were categorically wrong.
Emptywheel, however, feels that I'm missing evidence against some of the claims. I've suggested that she and talk about it offline.
And open thread!