We (the royal we) are declaring victory.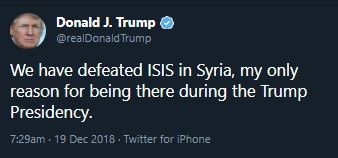 [I use screenshots of Trump's tweets for two reasons: not to give him the clicks, and sometimes he deletes them.]
This is something of a surprise to everyone, although he attempted it some months back, only to be stopped by those in the administration who want a war against Iran or maybe Russia.
Trump throws US Middle East policy into chaos: his secretaries of state and defense and other senior officials disagree, have been saying ISIS remains deadly threat, still controls pockets of territory; US troop w/drawal also surrenders US leverage in Syria political settlement. https://t.co/6VTjKXzksl

— Jonathan Landay (@JonathanLanday) December 19, 2018
https://twitter.com/profmusgrave/status/1075398094244712448
There is an alternate universe where the USG recognized staying in Syria indefinitely was a recipe for quagmire & was destroying its relationship with Turkey, so chose to use its position as an opportunity to de-escalate Turkish-Kurdish dynamics across the border & in Turkey.

— Nate Schenkkan (@nateschenkkan) December 19, 2018
Trump administration plans to pull U.S. troops from Syria immediately, defense official says | Will this actually happen or is it just more policy chaos? https://t.co/2ALL3bkOu4

— Marc Lynch (@abuaardvark) December 19, 2018
Did Turkey just stare down Trump in Syria? (More likely that a deal has been cut – perhaps one that will also see Erdogan stop talking about the Khashoggi murder…) https://t.co/yjqkTcJiph

— Mark MacKinnon (@markmackinnon) December 19, 2018
I don't feel too much empathy towards those who signed up to work for the Trump administration, but today I feel a small swell of pity for the poor schmucks at Treasury and DoD who are gonna have to answer press queries.

— Daniel W. Drezner (@dandrezner) December 19, 2018
Every couple of months somebody in DC actually bothers to ask the President what he wants for Syria and inevitably this happens. Next NSC turn-over in 3… 2… https://t.co/oBipGziOgC

— Tobias Schneider (@tobiaschneider) December 19, 2018
I tend to agree with the folks who say it's the right policy decision, but badly executed. Additionally, it may well be reversed when those desiring a war with Iran or Russia get into the Oval Office for a friendly chat. Developing.
Open thread.