A story from The New York Times that reminds that there are some folks who walk the walk:
THE HAGUE — Jessa van der Vaart and Rosaliene Israel, two Dutch pastors, usually get to church by cycling through the streets of Amsterdam to a Protestant parish in the city center. But last Wednesday night, they packed their robes into the trunk of a car and drove down the highway to The Hague for what was the equivalent of a priestly shift change.

They would take over at 8 p.m. from a local minister at the modest Bethel Church. Then, at 11 p.m., they would be replaced by a group from the city of Voorburg, who were scheduled to pull an all-nighter, singing hymns and preaching until daylight, when another cleric would arrive to take the baton…
The two ministers were making their way to their post in what has become, as the Times wrote, a "marathon church service," one that has been conducted continuously for the last six weeks, night and day.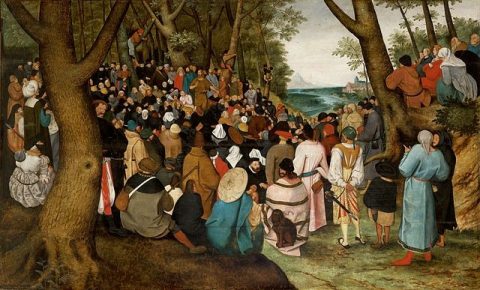 Why is this happening? Because enough Dutch people, church-goers and more secular, have committed themselves to the succor of the least among them, and are being very clever about how they go about it:
Under an obscure Dutch law, the police may not disrupt a church service to make an arrest. And so for the past six weeks, immigration officials have been unable to enter Bethel Church to seize the five members of the Tamrazyan family, Armenian refugees who fled to the sanctuary to escape a deportation order.
What I find particularly cheering at this wretched pass in both US and European times is that this effort has grown into something more than a (totally praiseworthy) effort of a few folks in one neighborhood into a national expression of values:
The service, which began in late October as a little-noticed, last-gasp measure by a small group of local ministers, is now a national movement, attracting clergy members and congregants from villages and cities across the Netherlands. More than 550 pastors from about 20 denominations have rotated through Bethel Church, a nonstop service all in the name of protecting one vulnerable family.
This is, of course, a symbolic gesture, as vital as it is to the Tamrazyan family.  There are hundreds of thousands of refugees scattered through Europe, thousands upon thousands of people trapped at the US-Mexico border, and way too many evil figures weaponizing their misery to utterly malign ends.  Mobilizing over five hundred people to save five leaves so many more in desparate need.  And yet…
Symbolic acts are not meaningless ones, and far less are they powerless.  Trump and his European counterparts are loud, and they assert a claim on reality just on the volume of noise they project.  It is impossible to counter that without creating a joyful noise in response, and that is what I think is going on here.  550 ministers carry a lot of congregants behind them.  The news is clearly getting out, if late nights in a small Hague sanctuary make the Grey Lady (no longer of) 43nd St.
One last note, on the eve of one of the most festive days in the Christian calendar.  I'm far from Christian myself, as y'all know; I am rather, an atheist (some days agnostic, but not that many) Jew.  There are lots of things that the historical church has to answer for — and by "church" I mean not just those ruled by the See of Rome, but the whole passel — and in this there's an analogue in Judaism, where as far back as Isaiah keen observers have noted gaps between ritual perfection and a genuine commitment to tikkun olam.   Through it all, though, the idea of imitatio Christi, living one's life as much as Jesus would have, is a powerful ideal.
It's true (and that's exactly what Isaiah was warning about) that the loud assertion of faith can — and we've seen it a lot ltely — produce at best an external appearance of godliness.  But this one example in Holland cheers me tonight, if only because it bears witness to the notion that what passes for Christian politics is not defined by the travesty American evangelicals have made of it.
And with that:  a merry Christmas to all who merrify; a happy holiday to all those who happify; and a premature new year's wish to all my fellow jackals, with no false seasonal saccharine:
FSM bless all here, and may Grabthar's Hammer wreak havoc upon all our enemies, soon, in our days.
This thread is open for piety, blasphemy, patristics, yiddishkeit, and/or any thing else….
Image: Pieter Brueghel the Younger, The preaching of St. John the Baptist, betw. 1601 and 1604.