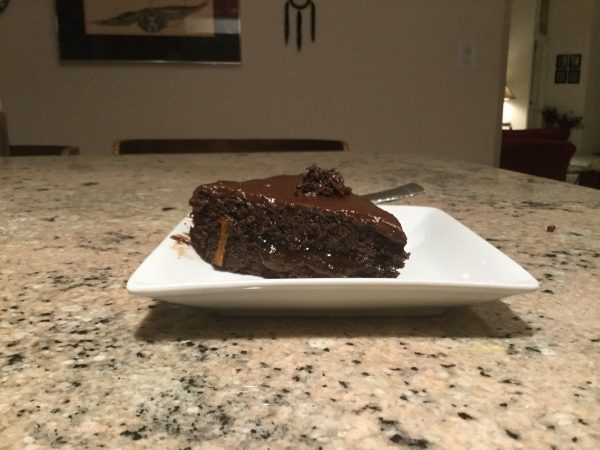 My mother found a recipe for a chocolate cake made without flour or sugar in some magazine and brought it to me and asked me to make it. This was for two reasons. The first is she wanted to try it. The second is that she knows that my system does not react well to flour, sugar, or other refined carbohydrates. So today I  took out the emergency tiara, the matching apron and oven mitts, and the wand and conducted an experiment with a little long distance collaboration with TaMara. Specifically, I don't have a large food processor. I just don't have use for one. And the recipe, as you'll see below, calls for mixing everything together in a large food processor. After a couple of emails back and forth, I went with her recommendation to just use my stand mixer with the whisk attachment.
Before I provide the recipe, this one has some interesting items in it. Specifically avocados. The cake batter gets three and the frosting gets two of them. Instead of cake flour or all purpose flour, it gets almond flour. And instead of sugar, this cake gets honey as the sweetener. I also added a bit of vanilla to the frosting even though the recipe doesn't call for it, as well as adding an additional 1/4 cup of honey to the frosting as I thought it needed a bit more sweetness.
The cake is very rich. And it's chocolateness is very rich. The texture is amazing, it is silky smooth. The flavor is a very deep chocolate with just a hint of sweetness. If you're a dark chocolate fan, especially the dark chocolate that isn't very sweet, then this cake is for you.
Here's the recipe:
Cake
3 avocados mashed (this is 1 and 1/4 cups)
4 eggs
1 cup honey
1 cup unsweetened cocoa powder
1 cup almond flour
1 and 1/2 teaspoons of vanilla
3/4 teaspoon baking soda
1/2 teaspoon salt
Preheat oven to 350 F. Blend all ingredients in a food processor or standing mixer using the whisk attachment until smooth. Divide the batter into two 9 inch cooking spray coated cake pans for 20 to 25 minutes until done. Cool completely before frosting.
Frosting
2 fresh avocados mashed (3/4 cup)
1/2 cup honey (I used 3/4 cup)
1/2 cup unsweetened cocoa powder
2 tablespoons coconut oil (I used grapeseed oil as I don't have any coconut oil)
Blend all ingredients in a standing mixer using the whisk attachment until smooth. Chill at least 30 minutes before spreading on cake. Makes 6-8 serving.
When I assembled the cake I used a good quality orange marmalade in between the layers and to crumb coat the top of the cake. The next time I make this I think I'm going to make an amaretto* flavored whipped cream for between the layers and to crumb coat the top. I'll garnish a slice of the cake with that same whipped cream.
Here's some pictures.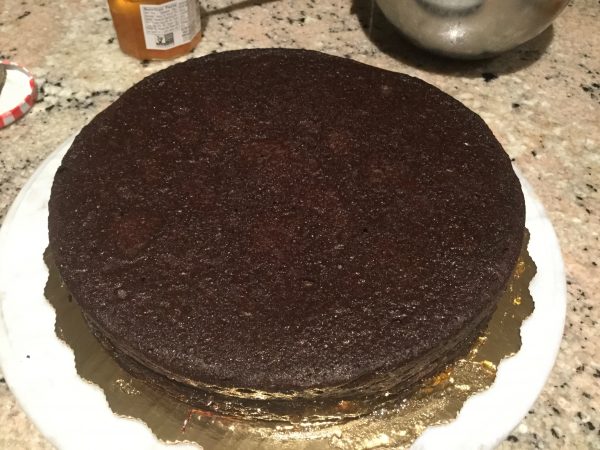 (Ready to be crumb coated and frosted)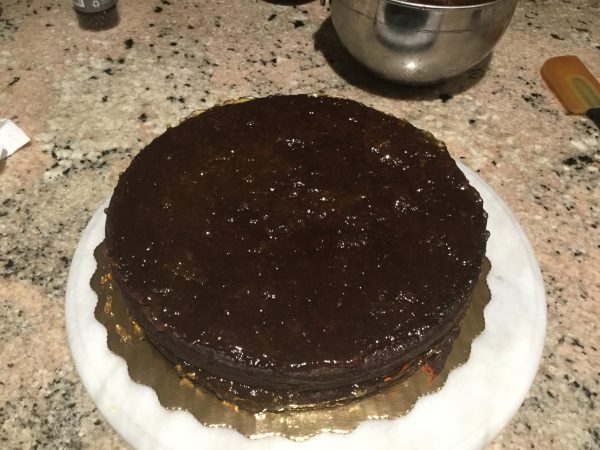 (Crumb coated in orange marmalade and ready for frosting)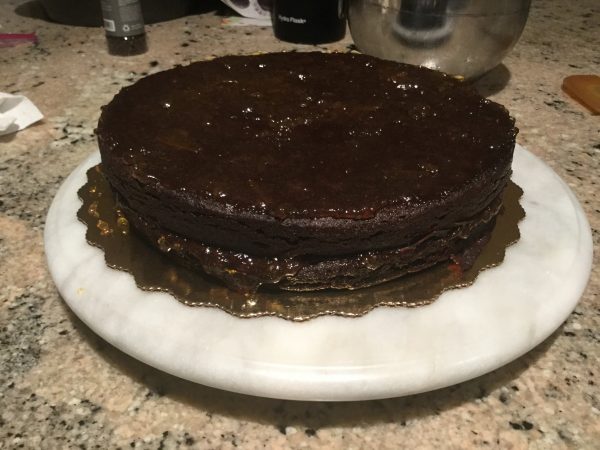 (Crumb coated in orange marmalade and ready for frosting)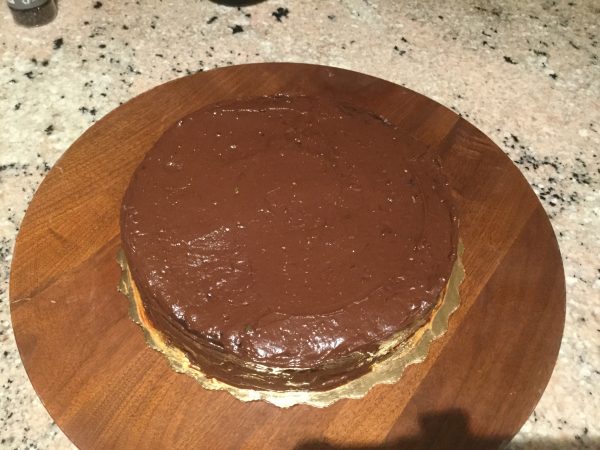 (Frosted and ready to serve)
Bon apetit!
We are off the strainer and through the cutting board…
Open thread!
* You can use the liqueur of your choice: amaretto, Bailey's, kahluah, whatever you prefer. Or you could just flavor the whipped cream with almond extract. Or orange extract. Or lemon extract. All of those would pair very well with this cake.