So, a couple of days ago, as we were entertaining visitors in the Swamp Compound, we all got to see a "nature, red in tooth and claw" drama play out right under our noses. First, this Great Blue Heron speared a big old bullfrog: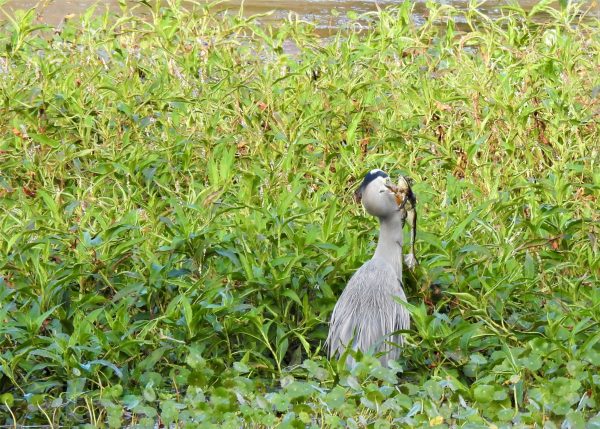 Sad for the frog, but at least its ordeal was short-lived. It soon became clear that the heron couldn't figure out how to get the dead frog off its face, which it needed to do in order to eat the frog. It tried shaking its head vigorously, snapping its beak, etc., but the frog remained firmly affixed.
Meanwhile, the heron's frantic frog-dislodging activities attracted the attention of a nearby hawk, which offered to assist by dive-bombing the heron and trying to snatch the frog away in its talons. It tried several times as we watched. (And as I fumbled with the damned camera to try to switch to video mode to capture the hawk attack — unsuccessfully!)
Eventually, the heron flew away across the river, with the frog still attached to its face. There's probably a metaphor in there somewhere.
Open thread!