Virginia's governor is considering running a state based exchange for the Affordable Care Act. The Roanoke Times reports:
The group also likes the idea of creating a state-operated insurance exchange, which the General Assembly initially supported and then abandoned in 2011 at the recommendation of Gov. Bob McDonnell…
Several other states such as New Mexico and Nevada are considering leaving Healthcare.gov and moving to their own State Based Marketplaces (SBMS) in the next two years.
There are several reasons why this might be attractive. The biggest one risk pool composition.
Right now Healthcare.gov charges 3.5% of premium as the price to run Healthcare.gov. With that money, the feds are supposed to upgrade the system, buy server space, run phone centers, perform outreach and keep the entire process humming. Since January 20, 2017, the federal government has dramatically reduced advertising and outreach expenditures while still collecting the entire fee. The code base of Healthcare.gov is fairly stable at this point and the demand for server space is also stable as enrollment is slightly declining for three years in a row now. Healthcare.gov should have the money to spend on outreach. And they are not spending money on outreach.
Shafer, Fowler, Baum and Gollust have shown that engagement drives enrollment activities. Shafer and I have a forthcoming paper that shows immediate enrollment activity changes on Healthcare.gov due to changes in messaging regimes. We know that engagement works to drive marginal buyers to Healthcare.gov and away from Healthcare.gov whenever the political powers that be are in favor of one of those results. The SBMS, like California, New York, Massachusetts etc. have been spending money on engagement. They are seeing flat or increasing enrollment despite a negative federal messaging and support environment.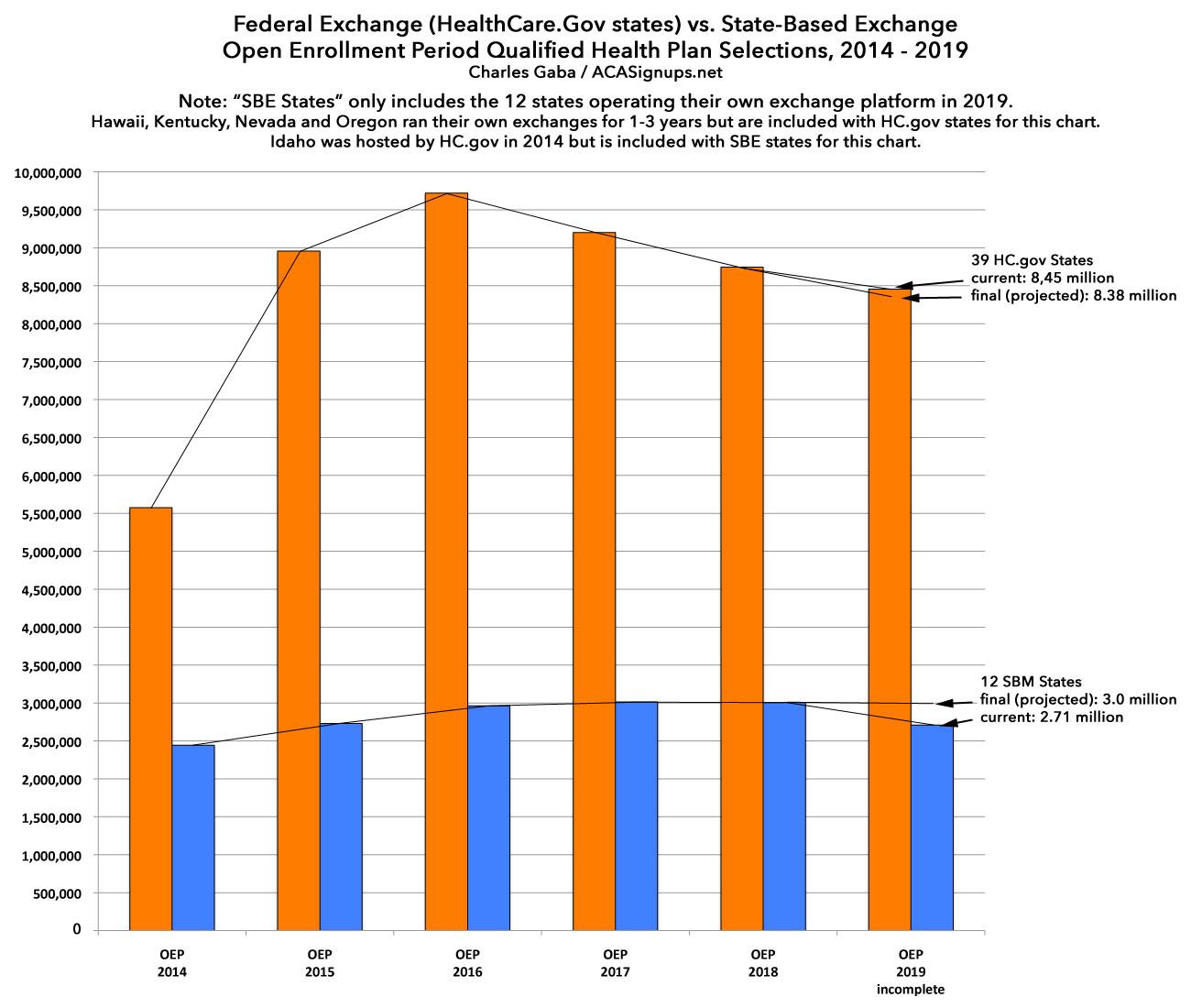 We can make a strong assumption that the people who are the most marginal of buyers and who will either buy or not buy an ACA plan conditional on outreach and messaging tend to be healthier and lower cost than average. More low cost people in a pool lowers average premiums and lowers federal advanced premium tax credits per insured individual. States that engage in aggressive outreach should, all else being equal, see a healthier risk pool and thus a lower benchmark premium. If Virginia was to buy an Exchange out of the box and run their own system, the exchange fee could either be held constant with far more local outreach being funded or it could be lowered while holding current outreach constant. That is an actuarial and political question as to what would buy on net lower premiums but that is the biggest play for a state based exchange.
The other major reason that a state may want to have their own exchange is that it is far easier to customize that portal to play nicely with other state portals and policies. Smooth transitions between Medicaid Expansion and Exchange plans may be a desired policy outcome. It is easier to achieve when both platforms are owned by the same entity. Updating verified income across social service programs and tax records may also be easier. Building a complex 1332 waiver with significant alterations to the current program design are probably easier on a state owned platform compared to Healthcare.gov.
These are some of the reasons why Virginia and other states may want to think about building out an exchange on their own or in collaboration with neighboring states. It gives them control and it offers a fairly low cost way to hold premium increases down.