It's a lovely and beautiful day down here in South Beach, where if you are lucky, you can catch a glimpse of the world's slowest dogsled team hauling an obese man around: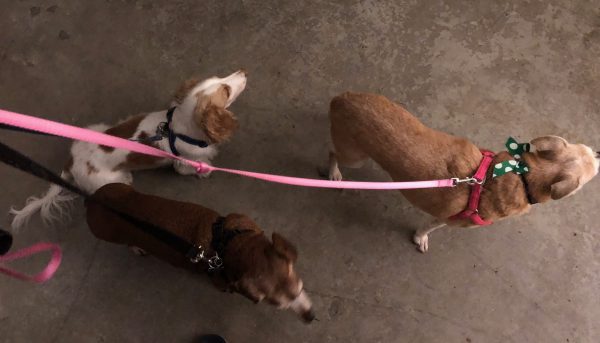 Riley and Prescott are very adorable, and excellent snugglers, but I have to say that walking them around the block is EXCRUCIATING. It honestly takes a solid 40 minutes just go one block. They go so slow that my fitbit does not even give me credit for the steps.
I can, however, completely see why some people are infatuated with Dachshunds, as they are really fun little dogs with a great deal of personality. Riley is an old soul- he and Lily are really the same temperament, freakishly so, have become boyfriend and girlfriend and are sleeping together curled up like an old couple who has been together forever. I've had Lily for over a decade, and she has never behaved like this with any other dog- even on the coldest of days up north she keeps some separation from Rosie and Thurston (although she and Steve spoon).
Prescott, on the other hand is 60% prima donna and 40% drama queen, and unless he is receiving CONSTANT attention, slowly mopes around like Marvin the Paranoid Android. I may need to have rotator cuff surgery after this because I spent most of the last 24 hours throwing a ball around the flat for him to fetch.
It's just a beautiful day, albeit hot, so I am going to go out and explore and do some people watching. When I arrived, Todd, my friend, said "You should take the bike out" ad I dryly responded "Oh, yes, I will take that out after I go for my morning five mile run." I don't think he noted the sarcasm, and then pulled out the bike pump to inflate the tires.
At any rate, I have spent the last 24 hours eyeballing the bikes and contemplating going for a ride. When I was younger, I loved riding my bike, spending hours on one, but it has been decades since I have ridden one. My better judgment says NO, but I am afraid I will not be able to resist the siren's call much longer. I think I may throw on some sporty shorts and a t-shirt, duct tape my health insurance card and driver's license to my chest along with a DNR note and a plea to take care of my animals (and Todd's), and head out.
We'll see.