And yet more thread.
To start: do not bring a bulldog to a roundup:
Texas is up pretty convincingly as I write this, but in Raven's honor I'm rooting for Georgia, and there's lots of time.
In other ways to enjoy the first day of a better year (saying it often enough helps make it so!) — another video I love to show my documentry class:
One of the early assignments is to take a bunch of historical newsreel footage of New York and cut it to some contemporary song — I have some cuts, and the students can use those or pick a favorite tune of their own.  That exercise is all about cutting to and with picture, beginning to think in visual narrative, and getting the start of a feel for the role of rhythm in conveying meaning and feeling.
This video helps get some of those asks across — and it repeats the theme of the Umbrella Man video: technical skills are great, and expand one's palette.  But it's possible to achieve a great deal with simple craft, as long as you know what you're trying to say, and take great pains to make the straightforward shots and cuts you know how to make as precise as possible.  As, I think, this video does.
And because I love pictures, here's an old favorite to help the year begin on the right note: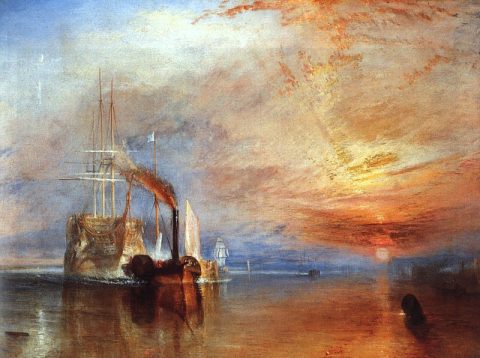 I say hello to the fighting Temaraire, here on her last journey, just about every time I return to London (and will again later this month).  Turner is one of those artists who needs to be seen in person.  Reproduction gets close to what he did with light; it cannot capture the texture and play of his paint.  Anyone on or travelling to the east coast…if you come to Boston, his "The Slave Ship" at the Museum of Fine Arts is a pilgrimage destination.  Truly, if you're in town, you owe it to yourself to see this astounding work.  And if you're in range of New Haven, Yale's Center for British Art is a must-visit.  It's got a ton of remarkable art, and as good an introduction to the singular visions of Turner as I've seen outside of London.  (If you do make it to London, then the Tate Britain gallery, a recent find of mine (I'm slow) has a wealth of Turners. The National Gallery has the headliners, the ones that make the art books — but Tate B. has enough examples to see how his eye and sensibility matured.)
As you might have guessed, I'm a Turner fanboi. Not apologizing.
Open thread!