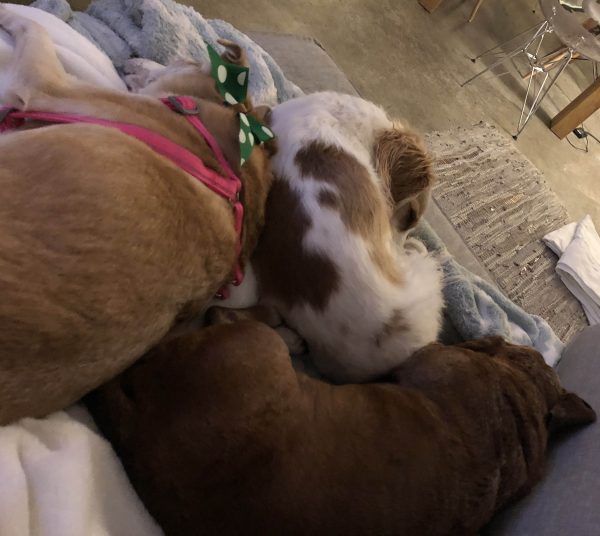 I've always believed that the laziest dogs on the planet were greyhounds- there is a reason they call them 50 mph couch potatoes. That is, of course, until I met Riley and Prescott. These dachshunds are, without a doubt, the two LAZIEST dogs I have ever met. EVER.
Every time I try to take them for a walk, I have to wrangle them off the couch, and they look at me with these sad eyes like I am taking them for a beating. Once I finally get the harnesses around their little stubby legs, I have to basically pull them out the door while pleading with them to walk.
They lie down on the elevator on the way down. Then they make me pull them off. And then we go for our drag around the block. Half the time I end up carrying Prescott.
And it is not just me. I have met a couple people who walk the dogs every now and then for my friend on the elevator, and they all say something to the effect of "Hi Riley, hi Prescott," and then turn to me and tell me "those dogs hate going for walks." Claudia, who is from Brazil and has raven black hair and blue eyes and were I a resident of Florida I think I would have proposed says that some days she can't even get them out of the condo parking lot.
My favorite example of this is the other night at around 9:30 to 10, Lily was doing her potty dance- she's used to a doggy door that she can use whenever she wants, so she was walking from room to room and I realized she had to go, so I grabbed her leash to put it on her. Riley saw me grab her leash, got a look of complete terror on his face, and jumped off the couch and raced into the bedroom to hide behind he bed. There was no way I was forcing him to go for another dreaded walk. When I got back from walking Lily, sure enough, Riley was back on the couch, happy as can be that the "walk" threat had passed.
LAZY.