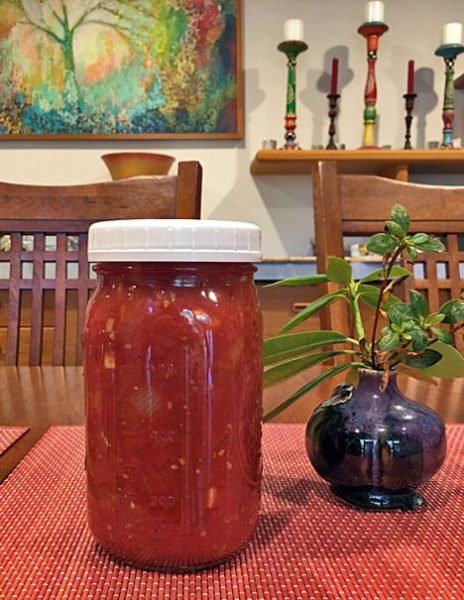 A promise of summer. From intrepid gardener & commentor Marvel:
Here's a spot of bright red happiness.

We grew a ton of tomatoes last Summer but when they came ripe, we were busy doing our fast/furious Buy New/Sell Old Home Switcheroo, so a couple of times a week, I just went over to the old house, harvested a bushelful, brought 'em home, quick-roasted them (to remove the seeds & skins) and tossed the lot in the deep freeze. These past two days, I've been thawing, cooking & canning a big batch (~2 gallons) of New Year's tomato sauce. This quart escaped the pressure canner and will be joining us for dinner pronto — yay!
***********
You know, I don't think I've ever heard from Southern-hemisphere vegetable gardners. If any of you want to consider that a challenge…
Here in the (not as frozen as it should be) North, seed & plant catalogs have been showing up in my mailbox since Thanksgiving. Anybody placed their 2019 orders yet?