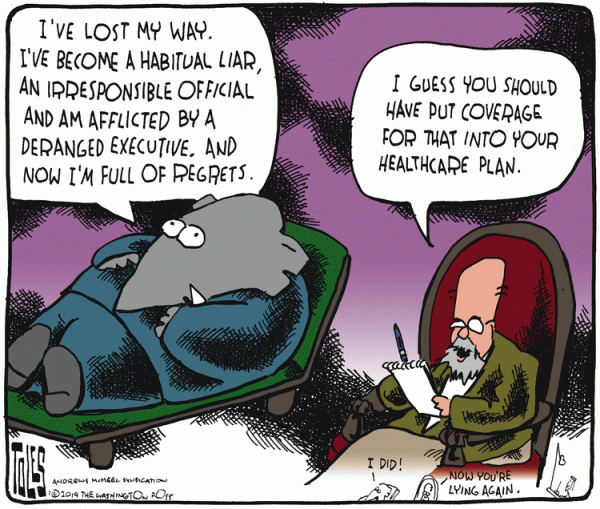 Last week was pretty stupid, but I'm sure this week will be normal and good.

— Dave Weigel (@daveweigel) January 7, 2019
I have a feeling that last Friday's toxic news dump was deferred for today. But then, I'm a devout Cynic; Churchy LaFemme's despairing Friday the Thirteenth falls on a ***day this month! has resonated with me since I first heard it, sometime before I entered kindergarten. (Hearing me repeat it, on the relevant day every month, confused the heck out of my kindergarten teacher even after she spoke to my father.)
To return to our usual start-of-a-new-day attempt to stay positive, it's genuinely good news that voters in Iowa are taking their electoral responsibilities with due seriousness this time. Per the Washington Post:
… The Iowa caucuses remain 13 months away, but a pent-up demand for change in the White House is tangible among Democrats eager for the 2020 campaign to start in earnest. The throngs of voters bombarding events in Iowa are testament to something fearful for Republicans: The huge tide of Democratic voters who powered the party's 2018 gains have not lost interest as attention turns to the 2020 presidential race…

Iowans cited a slew of reasons for their eagerness to begin the lengthy nomination process to settle on a leader to go up against President Trump. There were the tax cuts that one voter called "a waste of time and money"; the trade war with China depressing demand for exports and hurting farmers; the hostility toward immigrants, a labor pool heavily used on Iowa farms; the rolling back of environmental regulations that impact Iowa's rivers; a foreign policy approach changing the country's status in the world; and the general chaos and lack of civility in the White House…

Helping to channel some of this Democratic enthusiasm are organizations like Siouxland Progressive Women, one of thousands of groups that have cropped up on the left since the 2016 election.

"We're so ready," said Susan Leonard, 64, a co-founder of the group. Her 200-member organization campaigned for J.D. Scholten, the Democrat who unsuccessfully challenged Rep. Steve King (R-Iowa). Now they're turning to 2020.

"We've got invitations out to several presidential candidates already," Leonard said. "It's a big group, and we want to hear their ideas."

There are plenty of candidates and potential candidates coming to Iowa to meet with Democratic activists. A day after Warren departs Sunday, Julián Castro, the former Housing and Urban Development secretary and San Antonio mayor, is planning stops in Cedar Rapids and Iowa City. Delaney, who was the first Democrat in the race, will open campaign offices here when he returns to Iowa for events Friday and Saturday…
Even if my inner Eeyore suspects some of this enthusiasm is a parochial defense against California's new relevance under an early Super Tuesday schedule, any attitude more positive than Here we are now — entertain us should surely be encouraged, yes?