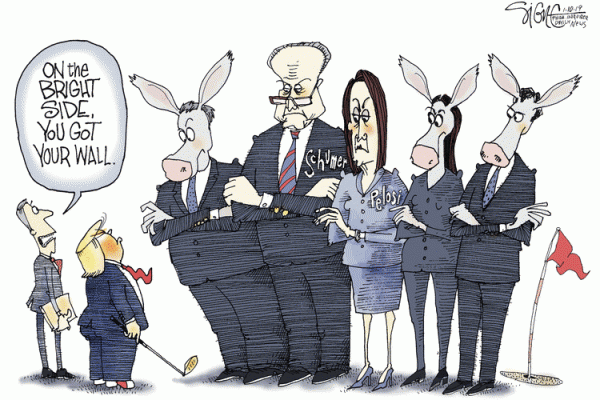 Trump may declare a fake emergency to build a fake wall to solve a fake border crisis, which is not an unpredictable result of electing a reality TV star as president.

— Orin Kerr (@OrinKerr) January 10, 2019
Since there's not much point in talking about yesterday's MAH WALL I WAAAAHNNIT!!!(tm) Trumpstunting — even Chris 'Mad Bitcher' Cillizza panned the performance — figured I'd share a couple of my favorite online political essayists, while we're waiting for the Friday news dump.
Tom Scocca is currently the editor of Hmm Daily, and producer of a series of brilliant rants under the subtitle "The Worst Thing We Read Yesterday™". Sample from January 9th, "The Fact-Checkers Are Tools":
… Apparently, the Washington bureau of the New York Times doesn't know many people who use federal government assistance in their daily lives. Less fraught with class conflict, but still fundamental to its understanding of the entire subject it covers, the Times bureau also seems not to know how much federal spending goes to outside contractors, who use that money to pay their own employees…

If the Times needs more information on the many things the federal government does, and on the millions of people who depend on the government doing them, CBS put together a nice brief roundup of shutdown effects in advance of the speech. It's never too late to learn!

But it is too late to redeem the whole fact-checking project. The Associated Press made its own contribution, with a tweet fact-checking the notion that the shutdown is Trump's fault:

AP FACT CHECK: Democrats put the blame for the shutdown on Trump. But it takes two to tango. Trump's demand for $5.7 billion for his border wall is one reason for the budget impasse. The Democrats refusal to approve the money is another.

It was a tremendously stupid argument—the president's extraordinary demand for a wall and the Democrats' response to the demand aren't two opposing reasons, they're the same reason, which originated with the president—but it was also not a fact-check at all. It was what conventional politics reporting would call a piece of news analysis: Who is to blame for the shutdown? Only it had been reduced to a true-false question, or a true/some-might-say-not-necessarily-true question…
 
Also a reliable source of solace, for us cynics, is Bess Levin's daily business report for Vanity Fair. Thursday, "Become a Dog Walker, Sell Your Stuff: Helpful Government Offers Furloughed Workers Shutdown Advice":
At midnight on Thursday, the government shutdown will reach its 20th day; if it continues through Saturday, it'll be the longest in history. At present, the White House and Congress are not even close to cutting a deal, with Donald Trump rejecting every offer proposed to him, including one from Republican Lindsey Graham who told reporters Thursday, "I have never been more depressed about moving forward than I am right now. I just don't see a pathway forward." Happily for Graham, he's still being paid during the shutdown, while some 800,000 federal employees have either been furloughed or forced to work without pay. For many who live paycheck to paycheck, the prospect of not being able to put food on the table, access crucial medicine, or pay their mortgage or rent, is a very real concern. Luckily, the government has advice!…

… Just knock on doors and ask if anyone has spare dogs or kids lying around, or churn out some scarves for Etsy, and you'll be back in the black in no time! While we would never suggest that the above is largely unhelpful, tone-deaf advice, a furloughed Forest Service crew member told The New Yorker, "No one wants to hire me because they know once the shutdown is over I'll have to quit," adding that temp agencies are "overflowed" with people in the same position. Meanwhile, and apparently this may come as a shock to the government, the employees who are being forced to work without pay—2,100 at the Coast Guard—don't have time for second jobs… Elsewhere, workers are told that "yes, your credit score may suffer during this time" if you miss payments, but to "keep things in perspective."…
Also, on the "saddening news" that Lord Smallgloves is "respectfully cancelling [his] very important trip to Davos"
Presumably, this announcement came after the report that the administration was still planning to send a large delegation to the annual billionaire confab at a cost of millions of dollars to taxpayers—money that will still be spent even if the president stays home, owing to "Davos's tight cancellation policies around the conference."…