BRING ME THE HEAD OF DEVIN NUNES

— Cake or Death (@Johngcole) November 7, 2018
Bob Mueller getting all Oprah up in here: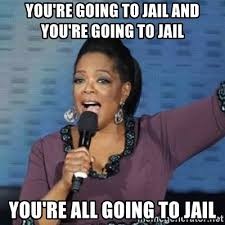 The Special Counsel's Office and federal prosecutors in Manhattan are scrutinizing a meeting involving former House Intelligence Committee Chairman Devin Nunes, one-time National Security Adviser Michael Flynn, and dozens of foreign officials, according to three sources familiar with the investigations.

The breakfast event, which was first reported by The Daily Sabah, a pro-government Turkish paper, took place at 8:30 a.m. at the Trump International Hotel in Washington, D.C. on Jan. 18, 2017—days before President Donald Trump's inauguration. About 60 people were invited, including diplomats from governments around the world, according to those same sources.

The breakfast has come under scrutiny by federal prosecutors in Manhattan as part of their probe into whether the Trump inaugural committee misspent funds and if donors tried to buy influence in the White House. The existence of that probe was first reported by the Wall Street Journal. The Special Counsel's Office is also looking at the breakfast as part of its investigation into whether foreigners contributed money to the Trump inaugural fund and PAC by possibly using American intermediaries, as first reported by The New York Times. Robert Mueller's team has asked Flynn about the event, according to two sources familiar with the Special Counsel's Office questioning.
This might be something Rep. Adam Schiff, the new House Intelligence Committee chairman, should look into.